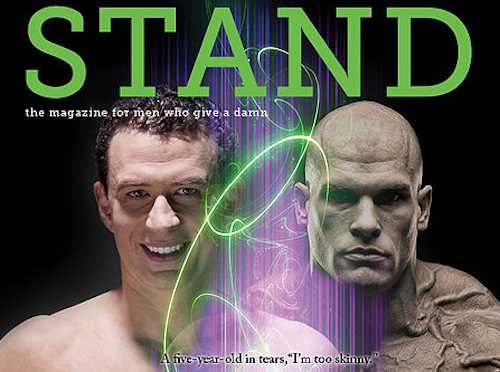 Metro Detroit has a vibrant history of small magazines — but all too often they open and close like flowers in April. We are used to the way they stay with us for several issues and then disappear. Heck, even the people editing and publishing them would agree that many worthy Detroit-area magazines have had short runs.
The exception to that rule would be magazine publisher Dwayne Hayes. For more than a decade, he published
Absinthe
, a journal of European writing. That track record continues, as he made a deal with the University of Michigan whereby it lives on.
In the meanwhile, his new magazine,
STAND
, is celebrating its first birthday.
The magazine is aimed at men, and comes with an earnest tagline: It's the magazine for men who give a damn about being better men. Not necessarily better in the sense of stronger or faster, but in all ways possible.
As we said before, those leery of male encounter groups shouldn't be shy about taking a closer look: STAND is an accessible magazine of writing and photography aimed at the average male reader. The most recent issue covers some of the "body image issues" men might have in the age of superheroes and steroids. Writer Josh Levs does a deep dive into a subject usually reserved for women and taps into a well of male insecurity. For instance, a Harvard psychologist who specializes in body image issues says, "My patients are getting younger. … I had a 6-year-old patient who was constantly picking his body apart, saying he was too fat, too skinny, not muscular." The theme is rounded out by Elwood Watson's history of male body image and mass media, the rise in male plastic surgery.
This is the kind of counterintuitive and compelling writing you can expect from Hayes' magazine. And Hayes and company will mark one year in business with an anniversary party this Thursday in Ann Arbor. The occasion will include a short presentation by Eric Shanburn, director of a child poverty nonprofit, and
Hoosier Nate Pyle will discuss his book Man Enough
. Then Atlanta-based alt-poppers
Paper Lights
will take the stage.
And, of course, there will be plenty of copies of the magazine with the editors on hand to answer questions or sign copies.
The party is from 7 to 10:30 p.m. Thursday, Sept. 15, at 2|42 Community Church, 410 S. Maple Rd., Ann Arbor; tickets are $10 and can be purchased in advance at stand-magazine.com or at the door.