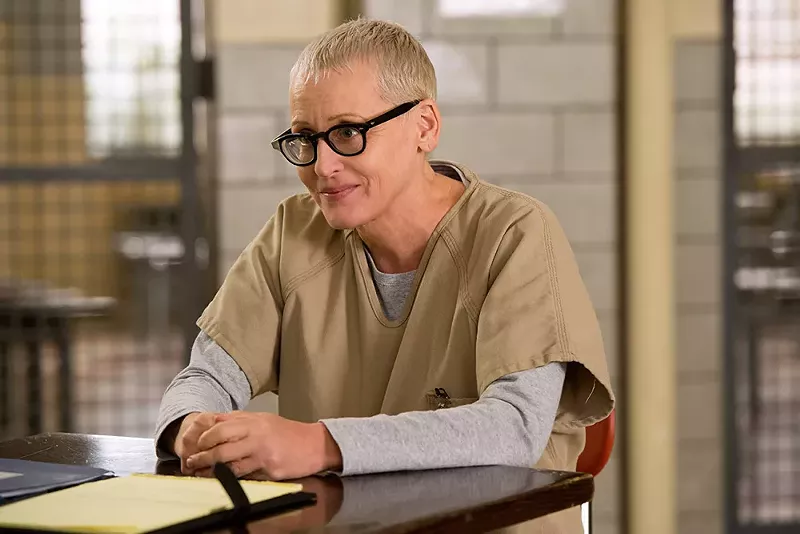 "I like pain," Tank Girl Rebecca Buck says while handcuffed as she flirtatiously lists hot oil and vacuum attachments as being among her many interests. She then offers a misleading blow job to the enemy, only to snap his neck between her ankles when he gets too close.
Guns drawn and pointed at her face, she shrugs, bewildered. "What?"
Before Lori Petty landed the title role of the 1995 campy and disorienting dystopian cult classic Tank Girl (in which she stars opposite up-and-comer Naomi Watts, Ice-T as a kangaroo mutant, and pedophile Rat Face played by Iggy Pop), the actress with an endearingly shrill drawl started out as a "baby hooker" in the 1985 series The Equalizer — a role she says pretty much all 19-year-old actresses will have the misfortune of getting cast as.
However, from 1990 to 1993, Petty shared screen time with Robin Williams (Cadillac Man), Keanu Reeves (Point Break), Madonna (A League of Their Own), and the most famous killer whale in cinema. Recently, though, she's most recognized for her role as the compassionate and psychotic Lolly Whitehill on Netflix's Orange Is the New Black — a culmination of what Petty has come to master: not taking shit too seriously.
When it is suggested that her performance as Tank Girl inspired generations of girls and women who, until the film's release, hadn't had a courageous style icon or big screen anti-authority female role model with that kind chutzpah, Petty doesn't think much of it.
"Just doing my job, baby. Just doing my job," she says.
When we chat with Petty ahead of her appearance at Motor City Comic Con, she's nursing a cold in her Venice Beach home and discusses Tank Girl's R-rating and how it feels to have given Jennifer Lawrence her first big break.
Metro Times: A dystopian movie about a world riddled with misogyny, power-hungry leaders, and a water shortage. Is there anything we can take away from Tank Girl 25 years later?
Lori Petty Well, for no reason whatsoever, the film was rated R. The only reason being that I'm a female. That was it. There was no violent bloody murder, you know, there was blowing up stuff, but there was no nudity. I'd have been naked the whole damn movie if I knew it was going to be R! We thought it was going to be PG-13, and that's what we made. And they gave us an R because the only reason I could think of is that I was a woman, you know, ruling shit. In my opinion, art comes from the future. It's something that you create out of thin air. So you can't help but be ahead of your time. I'm thankful I see 10-, 12-, 15-, 20-, 30-, 40-, 50-year-old Tank Girls at these [comic book] events. It's pretty awesome to know that it stood the test of time.
MT: So the R rating really fucked Tank Girl's reach?
Petty: Absolutely. People bought tickets to Tommy Boy, which was PG-13 and went to see Tank Girl, 'cause I know, 'cause I went to the movies. And the studio didn't really push it and they put out another film right after that instead of promoting our film. It's just, you know, politics and crap.
MT: Do you think, though, that the rating and lack of promotion led the film to reach this sort of cult status?
Petty: Yeah, but the film company, MGM went out of business. So I don't even know who owns the damn movie, first of all. And people are always telling me at the conventions that they can't find a copy. And I'm like, "Well, go on eBay. I don't even know where to send you." I know that the soundtrack was re-released at Urban Outfitters.
MT: So many of your characters use humor as a coping mechanism. Is that a personal quality you bring to a script?
Petty: I mean I've read scripts that I've gone and they're like, "No, Lori, this is a serious movie." And I'm like, "Oh, I thought it was a comedy because I think shit's funny." I think the way people behave is funny. And then I think people think I'm funny when I'm being serious. When Lolly, right at the beginning, she goes into the prison and she goes, "This place is amazing." In my opinion, she's being honest. She's been in prisons her whole damn life, but it's clean; there's no shit on the walls. She likes it. And you know, then people are laughing. But I don't take life seriously at all. I just think if we have fun and laugh and love each other then that's the only way to go. "No collusion" and "blah blah blah." Seriously. Stop. You're just so lucky you didn't get hit by a bus today or that your mom's not in the hospital or, you know what I mean? We have every reason to be happy.
MT: Do you feel like the film you wrote and directed, The Poker House, is often overshadowed by the fact that it was Jennifer Lawrence's first film? Do people bring that up a lot?
Petty: They mention it. Jennifer doesn't mention it, but they mention it. [Laughs.] No, no, no, I'm not mad. I'm just saying, you know, I'll take some of that $25 million, $200 million or whatever she got over there. No, I'm very proud of her. Super proud of her. But I can smell a movie star. So, when they sent me her audition tape, I was like, I can't hire her. She's 5-foot-9, she's built like a supermodel, she's got blonde hair, and Selma Blair is like 5-feet tall and weighs like 95 pounds soaking wet. I was like, I can't hire this girl to play Selma Blair's daughter. I'm just too busy. I'm not even going to look at it. And then the casting director goes, "Lori, just look at the tape." I look at it and I'm like, goddamnit there's another movie star. It was so obvious the way the camera loves her and her instincts. She was uninhibited in front of the camera, you know, it was like — what could I do?
MT: Coming from a small town, and coming up in the industry in the '90s, what's your perspective on how drastically things have changed in the industry?
Petty: Yeah, I was born in Tennessee and raised in Illinois, and then I moved to New York City when I was a teenager to be famous. I mean, I was thinking about a job and I saw a soap opera and I was like, well shit, I can do that. And you know, that's just what I thought it was just about having a job that didn't suck. Even during Point Break, A League of Their Own, and Free Willy — it was before cell phones, babe. Like, it wasn't about being famous; every day it was about doing your job. I have to like pull my knit cap all the way over my whole face if I'm walking down the boardwalk. It's not like they love me. It's like they love taking a picture of me. They don't want to talk to you. They just want to post it.
MT: When it comes to the convention circuit, is it still weird to encounter fans?
Petty: Of course it's still weird. But when you figure out that they're real excited to see you and they're super happy and that you're making these people happy and I'm getting paid, it's not hard. I mean, it's exhausting because people have so much energy and they're awesome, but every single person has so much energy. And you really have to, you know, attack them with love first because they get overwhelmed.
MT: I'm sure it's gotten a lot crazier since Orange Is the New Black ...
Petty: Orange blew it out of the water. When I saw Orange, I just saw it on my phone or whatever. I was like, why am I not on this show? This is some stupid shit. So I went on IMDB found Jennifer Euston, the casting director's phone number, and called her. Then, you know, I've been doing this long enough where people will take my call at least to figure out what the fuck Lori Petty wants. No one is going to give you anything, you know that. So you really have to take the reins on your own life. No one's going to write you a script.
MT: What're you focused on now that Orange has wrapped?
Petty: I mean now that Orange is over, I'm like looking for a new show. But really, the most fun for me nowadays is directing because you don't just sit around so much. So it's just so much more fun, 'cause every single thing in the shot is your responsibility. Like that styrofoam cup they found on Game of Thrones today. Did you see that? It's right in the middle of the shot. But there are at least a hundred people that saw it, in post-production, color correction, editing, the suits at HBO. I mean, they take so much time with the damn lighting, and dragons and fire and you didn't see this humongous Starbucks cup?
MT: So, Lori Petty the director would have caught that?
Petty: Of course!
Lori Petty will appear as part of Motor City Comic Con on Friday, May 17 and Saturday, May 18 with a panel/Q&A at 3:30 p.m. on Friday in the Diamond Room of the Suburban Collection Showplace; 46100 Grand River Ave, Novi; motorcitycomiccon.com. Autographs are $40, photos are $55, and duo photo op with Pauly Shore is $95.
Get our top picks for the best events in Detroit every Thursday morning. Sign up for our events newsletter.