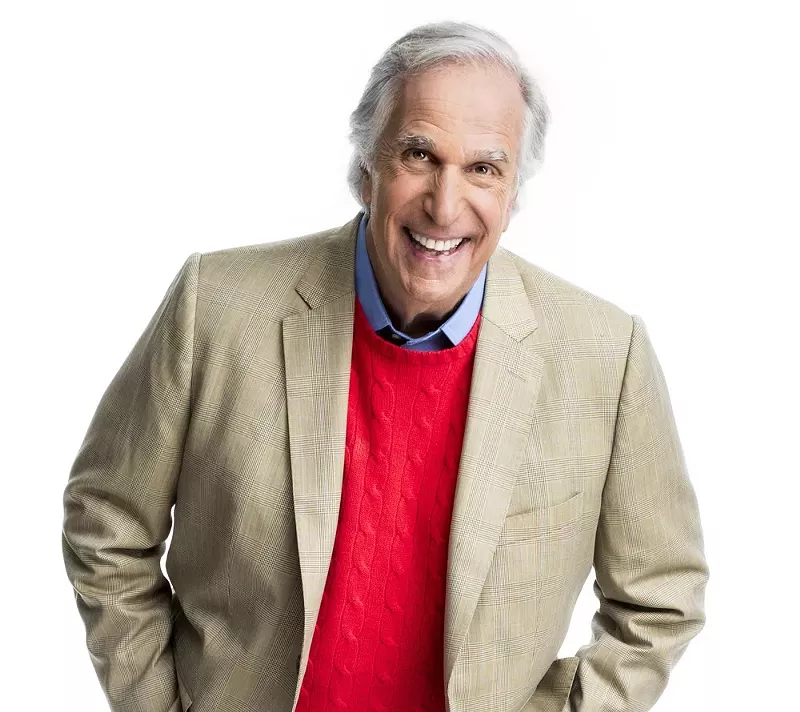 The milestone 30th anniversary Motor City Comic Con this Friday through Sunday at the Suburban Collection Showcase promises to be Novi's version of the Met Gala, the most spectacular and star-studded weekend in the pop culture cavalcade's history.
From Star Trek, George Takei and Jonathan Frakes. From Game of Thrones, Kristian Nairn. Tom Payne from The Walking Dead. Mark-Paul Gosselaar and Henry Ian Cusick from The Passage. Lucifer himself, Tom Ellis.
John Cleese. Lou Ferrigno. Lori Petty. Neve Campbell. WWE Hall of Famer Shawn Michaels. Even a private yoga lesson with Charlie Hunnam and Ryan Hurst from Sons of Anarchy. (Sold out long ago, as you might imagine).
How the heck does Fonzie fit into all of this?
That's right, Fonzie. "The Fonz." Arthur J. Fonzarelli himself. Amid the galaxy of heroic legends and cutting-edge idols gracing the booths, panels, and autograph tables this weekend, the appearance of Henry Winkler among the celebrity onslaught may appear a bit out of place. After all, his breakout role as the greaser guru in the classic sitcom Happy Days occurred in the mid-'70s, almost 15 years before the first Motor City Comic Con was even conceived.
However, consider this: if you're talking about pure pop culture in America, few individuals can claim a more enduring or phenomenal impact than Winkler, whose signature character is referenced routinely to this day. (When's the last time you used the expression "jump the shark," which Fonzie did in Season 5 of Happy Days?) And, unlike many of his contemporaries, he has managed to transcend generations with his acting roles.
In fact, to hear him tell it, Winkler enjoys few more gratifying moments than attending events like Comic Con, where all of his diverse fan bases come together.
"Everyone has a favorite," Winkler marvels during a phone conversation at 6:30 a.m. in Los Angeles, his preferred time for interviews. "There's a group from Happy Days, of course. But there's also a group from The Waterboy, a group from Holes, from Parks and Recreation, Arrested Development, Royal Pains, the travel show I did (Better Late Than Never), and now, Barry. The mix of Barry fans now is gigantic, absolutely.
"I stand in front of the table," he says. "I don't sit behind the table. And people line up, and they come, they say hello to me and they talk to me. I get to meet the people who totally support me. We look each other in the eye, and it's the most amazing adventure. That's why I do the Comic Con."
Barry, the HBO dark comedy co-starring Winkler as Gene Cousineau, an L.A. acting coach who teaches a class attended by hitman Bill Hader, earned Winkler his first Primetime Emmy Award last year at 73 for Outstanding Supporting Actor in a Comedy Series. He was nominated three times as "The Fonz" but never won. Unlike some actors, though, he does not hold the long-ago character for which he's still best known in contempt.
"He introduced me to the world," Winkler explains. "He put a roof over my head. He helped send my children to college. And he was so much fun to play. I am thrilled that in my life I got to do Happy Days, that I got to meet that group of people."
And if you have young kids, bring them to his table at Comic Con, too, because they may know his name: with his writing partner Lin Oliver, Winkler has written 34 novels for children.
"There are the kids who come up and say, 'I've read your books,'" Winkler beams. "Most of them are about a little boy named Hank Zipzer, who struggles in school like I did. But he is completely resourceful, he's very funny, and whatever the problem is, he solves it his way.
"He is me," Winkler says of the dyslexic Zipzer, adapted into a TV series in 2014 and whose adventures have been translated into eight languages. "He lives in the apartment I grew up in, he goes to the school that I went to, and he has Miss Adolf, the worst teacher on the planet. And Zipzer was the actual name of a woman who lived in my apartment building in Manhattan. I always thought she had such a zippy name."
Winkler and Oliver are now working on a new series of children's books titled "Alien Superstar." "When we hang up, I'm going to go to my writing partner's office and write another chapter," he says. "I'm so dyslexic, I walk around her office or sit in the chair across from her desk, I talk, she types. She has an idea, she types, I wait. She reads it back to me. And then we argue over every word."
Henry Winkler will appear as part of Motor City Comic Con on Friday, May 17, Saturday, May 18, and Sunday, May 19 with a panel/Q&A at 4:30 p.m. on Friday in the Diamond Center of the Suburban Collection Showplace; 46100 Grand River Ave, Novi; motorcitycomiccon.com. Autographs are $40, photos are $60.
Get our top picks for the best events in Detroit every Thursday morning. Sign up for our events newsletter.