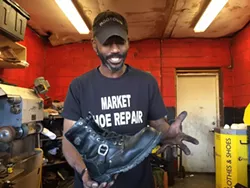 Moe Draper says God spoke to him. He told him to start a shoe drive for the homeless.
So, for the last two years he's held his "Saving Soles" shoe repair drive out of his Eastern Market shoe repair shop, Market Shoe Repair. He's collected over 4,500 pounds of shoes, clothing, and food and distributed them to homeless or poor Detroiters through Glorious Freedom Mission, Team Mental Health, and Planet Aid.
This year Draper will once again be collecting damaged shoes to repair and redistribute to the homeless and down-and-out. The 24-hour drive runs from 6 a.m. Thursday, Dec. 24 until 6 a.m. Friday Dec. 25.
Draper will be accepting shoes that need mending as well as worn or torn clothing at his stall in Eastern Market as well as Market Shoe Repair's sister location Detroit Shoe Repair at 220 Bagley #244, Detroit from 10 a.m. to 6 p.m. Monday through Friday and 6 a.m. to 4 p.m. on Saturday.
In addition to helping out the homeless, Draper aspires to become a master cobbler. He's traveled to 30 cities and studied at 50 different shops to help hone his craft and his goal for 2016 is to make it to New York to apprentice under a master shoemaker to learn how to make shoes, boots, and leather bags.
It wasn't long ago that Draper himself was homeless. The cobbler has been mending metro Detroiters' shoes for a decade and a half but just five years ago he found himself living on the streets. Until very recently he was walking 13 miles a day to work inside the Eastern Market stall where he repairs and shines shoes.