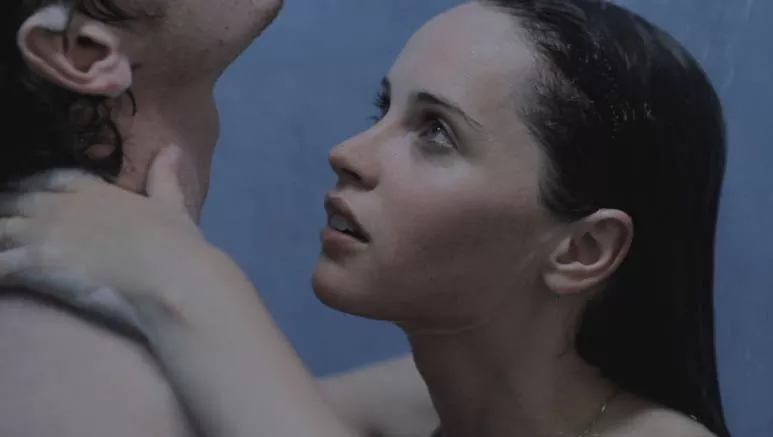 Love, romantic love, should be the most common and vital of human emotions, yet no one seems to truly understand the slightest damn thing about how it works. The universe of complexities that happens between two people is so hard to get right, too often the movies don't even bother, spoon-feeding us clichés and familiar, dumbed-down scenarios instead of the real, messy business of intimacy.
Like Crazy embraces that confounding tangle of feelings, made all the more intense by the youth and uncertainty of the lead characters. Jacob (Anton Yelchin) is a TA in a California university journalism class; Anna (Felicity Jones) is a love-struck student with a huge crush. She tries to get his attention with her class work and, failing that, she leaves a lengthy love note under his windshield wiper. It works. Soon they are riding bumper cars, eating cotton candy and making out under the eternally gorgeous orange glow of sunset over the Santa Monica pier. The vibe is so good she foolishly overstays her visa to spend the summer curled up in his bed. She returns home to London for the holidays, only to get snagged in red tape that won't let her return to L.A. He comes to visit for a time, but doesn't want to move to Old Blighty because he has a business setup making mediocre-looking modernist furniture. Or it could just be that he's a native Angelino and he's afraid rain will melt him.
With a wall of bureaucracy keeping them apart, these foolish hearts drift into placeholder relationships, though never really cutting the string that binds them across the sea. The story feels slightly arbitrary; I'm not entirely sure how many waify British college students get denied over minor visa violations. This clunky plot mechanism underscores the hidden truth; Anna is more committed to this relationship than Jacob is. In fairness, she gets a stuffy twit for a new boyfriend (Charlie Bewley), and he gets the creamy and delightful Jennifer Lawrence, a much more appealing consolation prize. Yelchin and Lawrence worked together in The Beaver, and their chemistry is strong enough to warrant another film, but this one isn't really about them.
Instead the movie belongs to Felicity Jones, a childlike beauty who radiates layers of secret depth with her every glance. Jones is a so delicate and regal-seeming, she feels like a fusion of other ingénues — as if Ellen Page and Julie Christie had a puppy.
It's a terrific, nuanced performance, just a few steps ahead of Yelchin, who has shown definite glimmers in action fare like Fright Night, but hasn't yet shaken off all his gawkiness. In fairness, he's working without a net; much of the dialogue was improvised, which intensifies the awkward, halting, but often magical tenderness between the leads. They make us believe in them, even when the characters and the slightly twee material leaves so much room for doubt.
Some love thrives and some love dies. Like Crazy lives on that exquisite cloud that hovers between the extremes.
Showing at the Landmark Main Art Theatre, 118 N. Main St., Royal Oak; 248-263-2111.