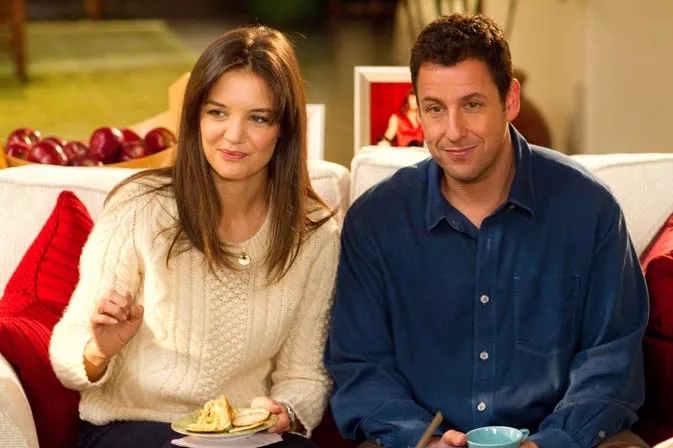 Based on recent output, Adam Sandler is as funny as your 11-year-old nephew making arm-fart noises at the dinner table — but you wouldn't pay that obnoxious brat $20 million a picture, would you? Yet Sandler's dire reign of box office terrorism continues unabated; this is actually the second Sandler-driven Happy Madison chuckle-fest in less than eight months (Just Go With It came first), and while he didn't star, he also helped "write" Buck Larson: Born to Be a Star, a sterling turd which achieved the rare and coveted "0" percent score on Rotten Tomatoes. Jack and Jill could easily match that inglorious feat, or exceed it, if that were mathematically feasible.
This shambling mess rests on a rare and volatile fault line intersecting multiple dangerous comedy trends; twins, fat suits and cross-dressing. In an Eddie Murphy-like display of virtuosity, Sandler plays — count 'em — two parts (incredible range), one essentially himself, the other himself in a skirt doing a silly voice. The title characters are siblings who shared a twin language as inseparable kids, but have headed in vastly different directions. Jack is like Sandler himself, a cocky, wildly successful sellout, free of artistic pretensions, though here he makes atrocious TV commercials rather than bad film comedies. Jill, his female opposite, is a grating, cloistered buffoon; one who doesn't use the Internet, loves Barry Manilow and leaves a body-shaped sweat stain wherever she sleeps.
Naturally Jack gets frustrated when Jill's annual Thanksgiving visit turns into an extended stay in his lush Brentwood mansion, yet no one else seems to notice what an utterly revolting, gassy, irritating slob she is. In fact, men seem to fawn all over her, including Jack's stereotypical gardener and, weirdly, Al Pacino himself; he's there being wooed to endorse a Dunkin Donuts beverage called a "Dunkaccino." Pacino goes all-out, tickling Sandler, babbling gibberish, break dancing and spoofing his own legendarily quirky image.
Sad sight as it is, at least Pacino punches in for work; everyone else is so self-satisfied and lazy they seem ready to nap at any moment. In fact, the party vibe is so strong that they actually move the action to a cruise ship for the second act, presumably so everyone can hit the lido deck between takes.
Katie Holmes, on a rare furlough outside the Scientology Celebrity Center, mostly stands around and looks confused — maybe she caught a peek at the script? Director Dennis Dugan is to Sandler as Hal Needham was to Burt Reynolds, a trusted hack that does his famous master's bidding and nothing more. Other Sandler flunkies abound, Nick Swardson, Norm MacDonald, Tim Meadows, Alan Covert and David Spade, with such famous faces as Drew Carey, Bruce Jenner, Shaq, Regis Philbin and Johnny Depp all popping in for cameos. These are at least distractions from the steady march of the on-screen flatulence brigade.
Bottom line: Sandler makes dumb movies for dumb people, and if he isn't going to put more effort into making them, why bother caring enough to trash them?