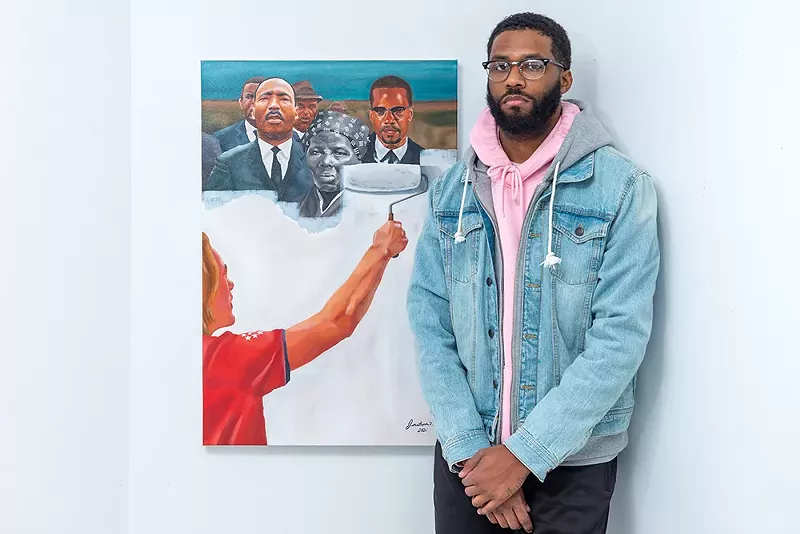 This feature highlights a different local artist each week. Got someone in mind you think deserves the spotlight? Hit us up at [email protected].
Artist of the week: Jonathan Harris
Jonathan Harris is unapologetic about his anti-racist body of work. His 2021 painting "Critical Race Theory" went viral, depicting a white man erasing Malcolm X, Harriet Tubman, and Martin Luther King Jr. with white paint, sparking criticism and praise. It's a literal depiction of the figurative whitewashing of history, and coincided with raging debates surrounding the collegiate-level theory being taught in schools.
In the year since his viral moment, Harris hasn't slowed down. He's curated several exhibits showcasing emerging artists at a new space in Pontiac, Gallery46. And despite a rift between the artist and Irwin House Gallery, where "Critical Race Theory" found its widespread success, Harris's highly anticipated follow-up at Nicole Tamer Gallery in July of 2022 continued his reign of creative prowess.
In that exhibit, Harris displayed a new style of black and white paintings with the only colors being red, white, and blue in the American flag his subjects posed with. The 12 pieces depicted people from various cultural backgrounds reflecting on how it felt to be American. In one painting, a Black man has the flag wrapped around his wrists like handcuffs.
Harris has been posting new work on social media as he gears up for a solo show at Liberal Arts Gallery in Detroit opening on Feb. 11. While some pieces ruminate on how the world has evolved in the generations since the ending of slavery, which we are not so far removed from, we were struck by a piece titled "Appropriation."
This half self-portrait shows Harris and a nondescript white woman painting the same picture of a Black man seemingly breaking free from chains.
A bold accompanying caption reads, "White people should not be able to profit from Black pain. We reserve the right to document our history without outside interference. We don't need help fighting oppression visually/ creatively. Please use your privilege elsewhere."
We're not fortune tellers, but we have a feeling "Appropriation" could become a second viral moment for the young artist. It feels like a companion piece to "Critical Race Theory" that doubles down on his staunch dedication to social and racial liberation.
It's a direct challenge to white artists to confront their privilege and motives when depicting Black subjects, whether they're ready to have that conversation or not.
Even if "Appropriation" doesn't achieve as widespread success as "Critical Race Theory," Harris's work simply cannot be ignored. We're impatiently waiting for February to see what else he has in store.
Where to see his work: Harris's solo show is slated to open on Feb. 11 at Liberal Arts Gallery.
Coming soon: Metro Times Daily newsletter. We'll send you a handful of interesting Detroit stories every morning. Subscribe now to not miss a thing.

Follow us: Google News | NewsBreak | Reddit | Instagram | Facebook | Twitter