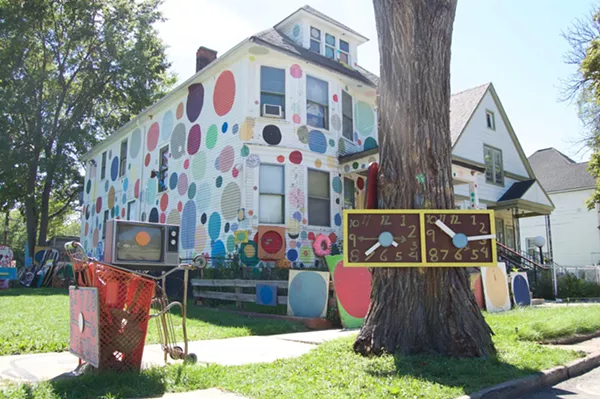 The Heidelberg Project
has started a petition
calling on Mayor Mike Duggan and the Detroit Land Bank to accept its proposal to acquire nearly 40 vacant lots.
Previously, Heidelberg Project CEO Jenenne Whitfield said that the Land Bank, which owns more than 45,000 abandoned houses and empty lots,
rejected the proposal twice
with no explanation.
Whitfield says the Heidelberg project has taken care of the properties for the past 30 years. Land Bank spokesman Craig Fahle said the Land Bank reserves the right to approve and disapprove of any applications.
"The Heidelberg Project is a Detroit institution that has taken care of a neighborhood that was forgotten by the City of Detroit and turned it into a destination that has attracted and inspired millions over 30 years," reads a statement on
the petition's web page
. "Mayor Duggan says that every neighborhood has a future and that those who stayed in Detroit have a voice in how their neighborhoods redevelop. It is time he live up to that promise. Tell the Detroit Land Bank to connect the dots and allow the Heidelberg Project to purchase the properties they have maintained for more than 30 years."
The petition reads:
I stand with the Heidelberg Project and urge Mayor Duggan and the Detroit Land Bank to immediately provide the Heidelberg Project the properties they have taken care of for 30 years.

Tyree Guyton, the founder of the Heidelberg Project grew up on Heidelberg Street. When he saw his neighborhood become crime-ridden and impoverished, he picked up a paintbrush and a broom and turned vacant houses into an internationally recognized outdoor art installation.

The City of Detroit has benefited from the Heidelberg Project for 30 years.

It is one of Detroit's most visited attractions, bringing approximately 275,000 visitors and millions in economic impact to Detroit every year.

For 30 years, the Heidelberg Project has employed people from the neighborhood to cut the grass and clear debris on more than 40 lots owned by the City of Detroit that would otherwise be blighted and unsafe.

The Heidelberg Project helped make Detroit an art city and has inspired thousands who are helping build the creative economy driving Detroit's comeback.

The Heidelberg Project is a Detroit institution. For 31 years they've invested in the neighborhood and brought people from around the world to see Detroit. It's time the City of Detroit recognize that contribution and let Heidelberg 3.0 grow.

The Detroit Land Bank should stop trying to silence the Heidelberg Project and provide the property they deserve.