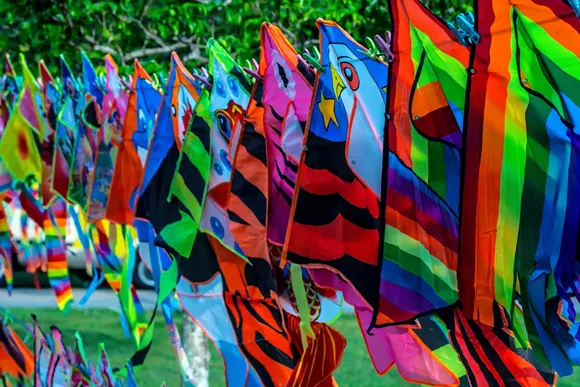 I can see it now: A beautiful blue summer sky over Belle Isle filled with a menagerie of kites painted every color of the rainbow, decorated with streamers and bows.
If that sounds idyllic as hell to you, you're not alone. And a nonprofit called the Detroit Kite Festival is hoping to make that utopian daydream a reality this summer.
But, they need some help.
The festival is scheduled to take place Sunday, July 16 and it is definitely happening (thanks to some help from Belle Isle Soup, Belle Isle Conservancy, and other local organizations), but the size and scope of the festival depends on how much money they're able to raise through their
Patronicity crowdfunding campaign
, according to lead organizer Margo Dalal.
The festival will be free, but if you donate $25 to the campaign, you'll get a kite upon arrival, plus a kite will be donated to a child. Think TOMS, but with kites and in Detroit.
Dalal says the Michigan Economic Development Corporation has promised to match funds, if they meet their $7,500 goal. With what would amount to $15,000, she says she and her constituents hope to provide transportation for neighborhood kids to and from the festival and as well as host kite-making workshops and other events leading up to the festival. Some of the money will also be used for less exciting things like logistics, tables and chairs, and a just-in-case fund.
But why kites and why now?
Dalal says she was inspired to create this festival because she has fond memories of attending similar events as a child. Those warm memories, coupled with a passion for creating an inclusive environment in Detroit catalyzed her drive to create the event. Last August she won the first ever Belle Isle Soup and she and her team (comprised of Matthew Tait, Katie Hearn, Zoe Minikes, and Arthur Bledsoe) used the money to become a nonprofit and work on their branding.
So, now they need the community to pitch in to help make bring their vision to fruition.