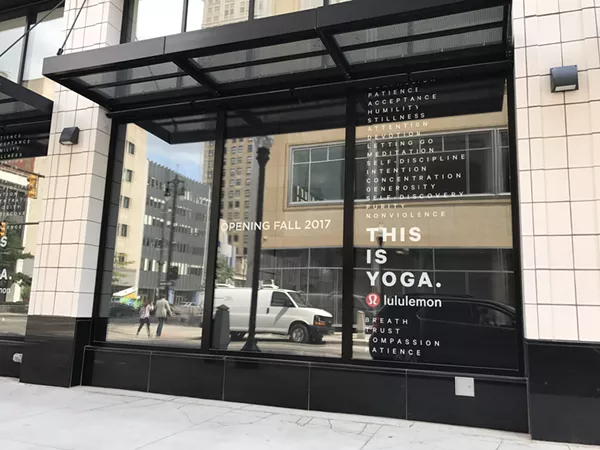 Last month we reported that upscale athletic clothier
Lululemon confirmed
they would open a storefront on Woodward Avenue next to Warby Parker — a location formerly inhabited by "technical cashmere" purveyor Kit & Ace.
Today, the company says the store will open on Friday, Sept. 21 at 11 a.m.
In a press release sent to
Metro Times
, Lululemon reveals that the 3,000 square foot store will operate as a special concept called Downtown Detroit Local, meaning the store will be "community-focused" and will "engage intimately" with Detroiters.
The release also states that the store will be inspired by the historic and stylish Woodward Avenue as well as
"artist community of Downtown Detroit."
On opening day the store will offer Ashe Coffee and Marymai Kombucha, Cool Jack's Ice Cream, and a chance to run with partners from WeWork and RunThisTown Detroit.
According to the press release, the store will feature works by local artists as well as photographers of local athletes.