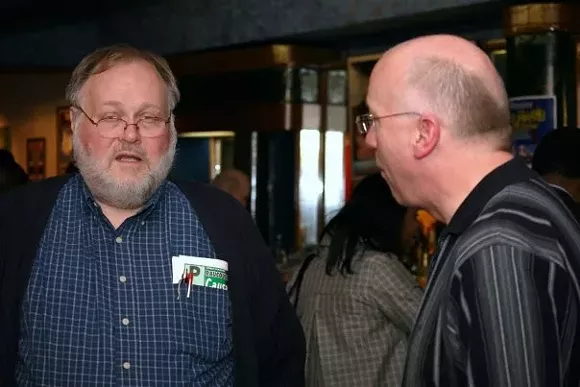 A Detroit journalist died last week. We've been so busy getting ready for our huge Best of Detroit issue that we haven't had time to write up an obituary. And that's a shame, because this journalist deserves to be remembered, at least for a minute or two. For every TV clown or flame-warring blogger that gets the big headlines, there are hundreds of journalists who toil in relative obscurity, covering their beats and connecting with readers. And when they go, few of them get a fraction of the ink they so generously spilled for others.
The journalist I'm talking about was Robert Delaney. Delaney worked for
The Michigan Catholic
for 22 years, until his retirement in 2013. Back in the '00s, Delaney was writing theater reviews for
The Monitor
, which is how he came to my attention. He died April 11. He was 65.
Now, reviewing live theater is one of the most challenging beats a critic, or any journalist, can have. It's also something I know a thing or two about, having reviewed live plays a bit during Delaney's long run. You have to take notes in a dark room legibly enough to understand them later. You have to watch a play and yet not get completely lost in it, lest your review suffer. You have to evaluate a dozen different aspects of the work done by cast and crew: not just performances by actors, but sound and lighting design, wardrobe, art direction, writing, blocking, stage management, and direction. You have to know, as a seasoned theatergoer, who is responsible for what. And you have a host of names to get right. But if you pay too much attention to the individual parts, you lose your sense of the whole. Hard work indeed, but Delaney had a way of making it look easy.
What's more, Delaney's job had to be done with a certain sensitivity, as the people of Detroit's live theater scene often had an activist bent, lived in penury to support their chosen art, and were obviously given to passionate reactions to reviews, particularly unfavorable ones.
You see, reviewing live theater in the Detroit of a decade ago meant reviewing plays that challenged conventional mores. For a devout Christian, this must have been a special challenge for Delaney, though he seldom let it show. When reviewing a performance of Fernando Arrabal's anti-fascist play
And They Put Handcuffs on the Flowers
at the Zeitgeist Theatre, his review mentioned his fear that a thunderbolt was going to shoot down from the sky and consume the building in flames for the play's blasphemy. An actor in the show, Leah Smith, tells us she wishes she could find the clipping.
"He was a giant sweetheart," Smith recalls. "He was always a boisterous laugher, and he was so friendly that we (almost) didn't care about his reviews. We just
liked
him."
Bruce Millan of the Detroit Repertory Theatre released this statement to us: "Delaney was an objective, kind and gentle reviewer, but on rare occasions when he felt a play abused the truth he would explode with an articulate and passionate diatribe. You could not help but respond with deep and profound respect. You had to admire his passion for theater and his willingness to express it."