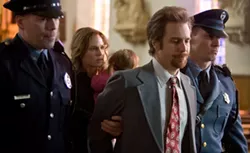 A handsomely appointed, powerfully acted and slightly drab true-life drama, Conviction has one of those clever dual-meaning titles, referring to both legal procedure and the heroine's relentless drive. As the indefatigable Betty Ann Waters, Hilary Swank displays more grit and pluck than a KFC in the Sahara, trudging on through years of labor, discouragement and heartache in a lonely quest for truth.
Her troubles begin in 1983 when her shiftless but generally good-hearted brother Kenny (Sam Rockwell) is wrongly convicted of a murder in their mossy little Massachusetts town, played ably by farmland outside of Ann Arbor and Jackson. There's a lack of substantial evidence, but because Kenny is a brawling, hard-drinking party machine all too familiar to the local authorities — he's an easy target for railroading. He gets locked up and discarded by society, dead to the world, save for his quietly determined sister who never wavers to advocate his innocence. The lengths to which she goes to insure his freedom, at the cost of her own comfort and relationships, borders on saintly. Through sheer force of will, this high school dropout struggles through night classes, undergrad and eventually law school, alienating her husband, children and just about anyone else in range. She does make one friend, a fellow law student (Minnie Driver, with a similar level of sass and fire). Eventually, after more than a decade of effort, these two hard-driving gals attract the attention of hotshot celebrity attorney Barry Scheck (Peter Gallagher) whose focus on DNA evidence gives Kenny's moribund case new life.
Conviction is the kind of one-righteous-spirit-against-the-soulless-system underdog story that used to be Hollywood's stock in trade, and while it does round off harsh edges of reality, it retains some of the modern-styled jaundice, gloom and veracity of a pic like Erin Brockovich. In this, the film is only somewhat successful, reaching for the stark honesty of Dead Man Walking, but more often playing like a really solid, uplifting basic-cable movie. The acting is at a generally high level, but there are occasional rough patches, like a distracting appearance by Juliette Lewis as an untrustworthy witness, who chews the scenery with a set of appalling hillbilly choppers. Fortunately, simply watching Sam Rockwell work is inspiring enough. He's got enough energy, savvy and charm to uphold even the soggiest script, and he's well matched with the unimpeachable Swank, who chases shiny acting awards with the same tireless dedication that our heroine seeks justice.
Opens Friday, Oct. 22 exclusively at the Birmingham 8, 211 S. Old Woodward Ave., Birmingham; 248-644-3456.