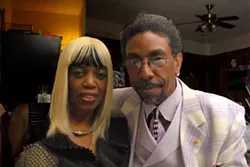 The first thing you notice here are the colorful suits. Nearly everyone has one on. Because when you come to the Raven Lounge and Restaurant to hear the blues, you come looking good.
"People dress up at the Raven," says Tommy Stephens, the bar's owner. He always refers to his place reverentially, by its name. "They come in with suits on and ties on. You're very seldom gonna see an extremely casual person in the Raven."
And what suits they are. Like the purple-and-white plaid three-piece worn by the man lounging at a table. The lavender one on the sharp-looking cat leaning against the bar. And the brown one draped on the man who chose to pair it this evening with a bowler hat.
It's Saturday night at this little east side lounge on the corner of Chene and Farnsworth. The band on stage plays midtempo Motown and blues at a muted volume that fills but doesn't overwhelm the small room. The audience, dressed in their peacocking finery, watches intently.
This is not background music. It's the kind that makes people stop talking when it begins.
The Raven bills itself as Detroit's oldest blues bar. It's also one of the city's last live blues venues. And it's one of the only bars left on a strip that was lined with them years ago. That means on most nights, some band plays some great music to a half-empty room on a mostly deserted street.
After half a century, the Raven remains obscure. There are no ads in newspapers for it. Local entertainment guides don't list it, and most who come here heard about it from someone else. It's the kind of place that would have a line outside the door if it were anywhere but inner city Detroit.
Instead, on this night, there are about 10 people who have this place — its music, its atmosphere, its history — all to themselves.
"People become a little jealous of the Raven," the 64-year-old Stephens says, explaining the thin crowd at a bar where Motown legends used to drop in to play for free. "They say, 'I don't want to invite my friends in here; I just want this place to be just for me and my boyfriend.' That's one of the reasons that we've been like a well-kept secret. It's been almost like a family affair."

The Raven opened in the 1950s, when its white owners would hire black musicians to play to white crowds but wouldn't allow black patrons inside. By the '60s, they saw the faces in the neighborhood changing and sold it to Sam and Myrtle Watts, a black couple who, first thing, let anyone inside who wanted to be there.
For years this was Stephens' hangout. Born in Florida, he came to Detroit after college in Ohio, looking to work with troubled students.
"I wanted to teach wayward kids and I asked to be placed in a very difficult school," he says. They gave him a job in special ed, teaching those who'd shifted there for behavioral issues. "I found out that many of these youngsters were not really retarded," he says. "There's a difference between being three grades behind and being innately impaired. And many of them, they had assaulted a teacher or been in fights, so they were railroaded into special education. I saw it my job to get them out of there."
His fellow teachers, who gathered at the Raven every day after work to unwind with some of the best jazz and blues in town, turned him on to the place. "Ninety-five percent of all of my alcohol in Detroit was drank in here," he says. Then Sam Watts died in 1992, and his widow offered Stephens first dibs on buying the place. He jumped at the chance to keep his favorite bar alive. Her one condition — don't change anything.
He didn't. The music's the same kind it's always been. The recipes for the food they serve, from the chicken wings and catfish sandwiches to chitterlings and T-bones, are the same ones they used in the 1950s.
The decor is still old-style too. The walls are lined with black-and-white photos of jazz and blues icons like Billie Holiday, B.B. King and Johnny Taylor. Banners around the room exclaim "Happy Birthday!" like a permanent party for everyone in attendance regardless of the date. There's a long bar and a floor full of tables, and every seat has a good view of the stage.
Cover is $5. The doorman will escort you inside to a table. If it's raining they walk you to your car and hold an umbrella over you. It's old-time and gentle-mannered, because Stephens is determined to keep it a sanctuary from the blighted neighborhood outside.
"We keep the riff-raffs out the door," Stephens says. "We have a motto in here saying, 'Don't invite somebody in here unless you want them in your living room.'"
He knows a place like this can't draw customers if they don't feel safe. So when he took over, he approached the drug dealers and prostitutes who roam Chene Street at night, and told them the zone between Frederick and Theodore, which stretches a block to either side of his bar, is off limits.
Don't work that strip, he warned them.
"That's the Raven's territory," he says. "We control this area."

The man in the sunglasses wandered in with nothing but a trombone in his hands.
Toney High came to Detroit a month ago to see the Detroit International Jazz Festival and try to find a steady gig. He has lived in Texas, Brooklyn, most recently in Saginaw. He started playing trombone in seventh grade, got his first live gigs at 15. He's so in love with playing music he hopped in his car and drove to Detroit with nothing but his horn and blind hope.
"My mother always told me, she fusses at me now — 'Why do you wanna go there? You don't have no money to get back. You barely got enough money to get there,'" the 49-year-old says.
For now he's sleeping in his car, "until I'm able to find a room here or something. But my car is not the best. It's about falling apart." He spent most days after he got here practicing or performing on street corners, waiting for something to turn up. Meantime, someone told him about the Raven.
When Stephens first heard him, he was convinced High wasn't just some street musician, that he was something special. "He came in here and he played last week, and I knew instantly that he was a professional," Stephens says. "I walked up to him and said 'Whose band did you play in?' and he said 'Johnny Taylor's.' And I said 'I knew it.' I told him to come back next week and the week after. He took over the stage. They gave him a standing ovation." When the band invites him to join in, he stands on the floor, offstage. The room's small enough that he doesn't need a microphone to be heard. And when he plays, when the band strikes up, the customers can't look away. For him, playing the Raven is worth sleeping in an old car.
On any given night the band gets bigger with each of the night's sets because guys like High show up. What starts as a three-piece group soon becomes eight.
"Usually the second and third shows are the best, because other musicians are getting off from their little gigs and they come into the Raven around 11 o'clock or so, and they just add that spice and salt and pepper," Stephens says.
When a new band plays a show here, Stephens roams the audience, polling to see whether they should be invited back. "And customers tell bands all the time, 'I chose you. That's why you're up there,'" he laughs.
Motown greats would sometimes drop in to perform. Aretha Franklin has sung here. So has Smokey Robinson. Members of the Dramatics and Funk Brothers have performed here too, as have countless other talented musicians, gigs witnessed only by the handful of well-dressed people fortunate enough to know about this place, lucky enough to always have a front-row seat for some of the best music in town.
"Oh, man, they have some of the most fantastic musicians in the Motor City here," says Doc Holliday, the 54-year-old house DJ, who spins '70s soul classics when a live act isn't playing. "They converge on this place 'cause they all know each other from years and years back. That's what makes the Raven so unique. You never know what's going to happen."