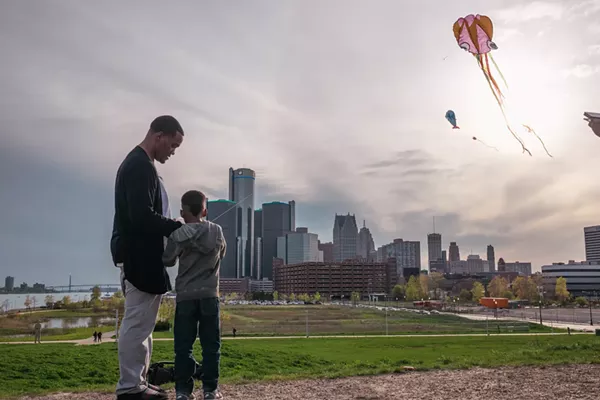 Margo Dalal made it clear during an early interview about the Detroit Kite Festival that the nonprofit she leads is not her crusade. She doesn't want to see her name in the headline. She doesn't want people to think it's about her.
To be fair, her title is director, but she works with a team of four other organizers (Matthew Tait, Katie Hearn, Zoe Minikes, and Arthur Bledsoe) and together they've created the inaugural Detroit Kite Festival as a way to bridge some gaps in the community.
The festival, inspired by Dalal's early memories of attending similar festivals in Washington, D.C., is as much about the colorful flying contraptions as it is about inclusivity and healing wounds that have festered for too long.
The idea of the festival first gained some traction after Dalal won a grant from the Belle Isle Soup competition, an offshoot of Detroit Soup that helps foster new events at the state park.
After that, the Michigan Economic Development Corporation offered to give them a $7,500 grant, but only if they could match that amount through fundraising. A Patronicity campaign raised over $11,000, and the grant was theirs.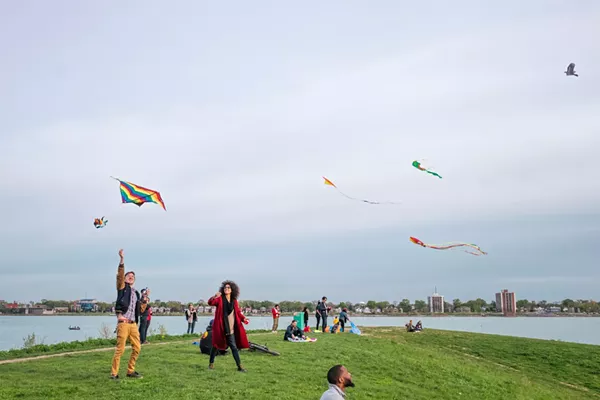 For a first-time event, organizers did a remarkable job of meeting most of their goals. They managed to host informal kite-flying meet-ups prior to the event and they've organized two free shuttles that will bring in about 75 children and families from Southwest Detroit.
But, the free festival is just in its infancy, and the six-hour event — while it will feature a striking number of amenities ­— still has room to grow. Of course, they've got some help to make that a little easier.
The nonprofit partnered with a handful of the city's biggest cultural institutions, and representatives from the Detroit Institute of Arts will lead kite-making activities for those who'd like to fly something handmade. The Detroit Public Library will host a participatory pop-up museum and book nook where attendees can take a break from the sun to learn about the rich history of kite-flying.
In anticipation for the fest, members of the nonprofit held a workshop at the 19th annual Allied Media Conference where participants helped build a tetrahedral tent kite, and a similar worshop will be held at the festival. Kids of all ages will also be able to have a hand in crafting a Will-it-Fly tent kite, and TechShop Detroit will host a kite-building competition, and they'll hand out a number of prizes throughout the day.
There will also be performances by youth poet King Moore and the Motor City Street Dance Academy.
While all of these accoutrements will make for a wonderful festival, Detroit Kite Festival is very simple at its core. It's about play.
An early tenet of the festival has been carried on throughout it's sometimes difficult gestation: The festival is about radical inclusion, communal play, shared healing, and the celebration of culture and community.
"Child-like play is perhaps the best activity to bring people together," the Detroit Kite Festival website reads, in part. "Playing, for people young and wise, encourages imagination, dexterity, and physical, cognitive, and emotional strength. Playing helps us interact with the world around us."
Is flying a kite going to be a miracle pill to cure poverty, institutional racism, and cultural appropriation? No, but it's a balm and it's a place to start.
Detroit Kite Festival happens on Sunday, July 16 from 10 a.m. to 4 p.m. at Belle Isle Cricket Fields. The festival is free. For more info go to
detroitkitefestival.org.