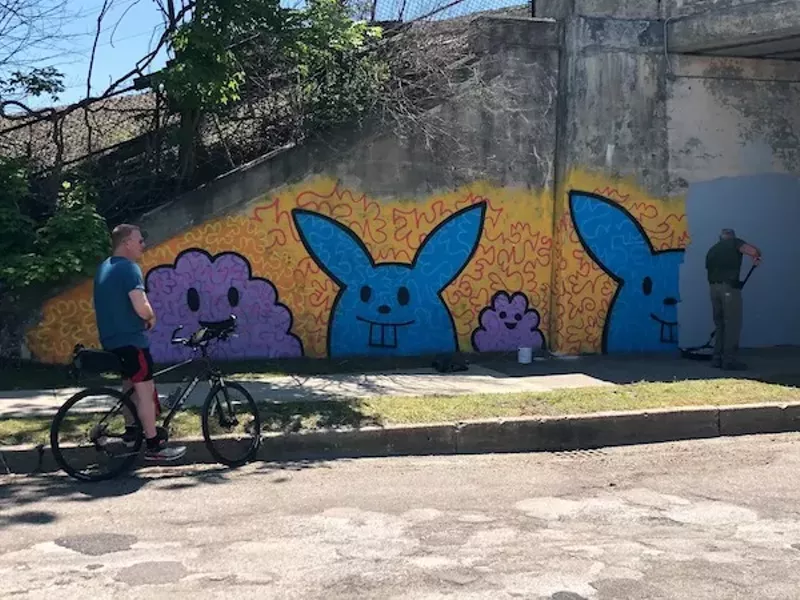 Royal Oak artist Carl Oxley was
arrested two weeks ago for painting a mural without permission
in that city. This week, he tells
Metro Times
that, whatever the outcome of his case, the situation should throw a spotlight on the quality of the railroad right-of-way.
We're familiar with the artist due to a story we published about four years ago. He has something of a reputation as a prankster or gadfly, and is liable to raise the ante via his work.
In this case, though, he painted bunnies and fluff balls he calls "little monsters" on the viaduct under a bridge. It's a perfect 10 of "durned cute." He worked on it for two hours a day for two days, and was arrested by Royal Oak Police on the third day, while putting the last touches on the mural.
At this point, Oxley isn't even sure if he'll be charged with a crime. "We don't know whether they've decided to charge me or with what, which is a little unusual but I have an unusual case I suppose. We're still waiting to hear from the city," Oxley says. "The initial hearing was set for past Monday, but the lawyers have been calling every three days." Oxley's lawyers tell him the paperwork for his case not available in the system as of yet.
Oxley says he's pretty sure that the city manager's office would rather he not face charges. His hope is that he may be able to do his community service by painting a mural.
Ultimately, Oxley hopes the case leads to improvements to Royal Oak's railroad bridges, which Oxley says he's not alone in seeing as a quality-of-life issue. "I hope there's a push against the railroad," he says, "to get them to do something about the state of these bridges."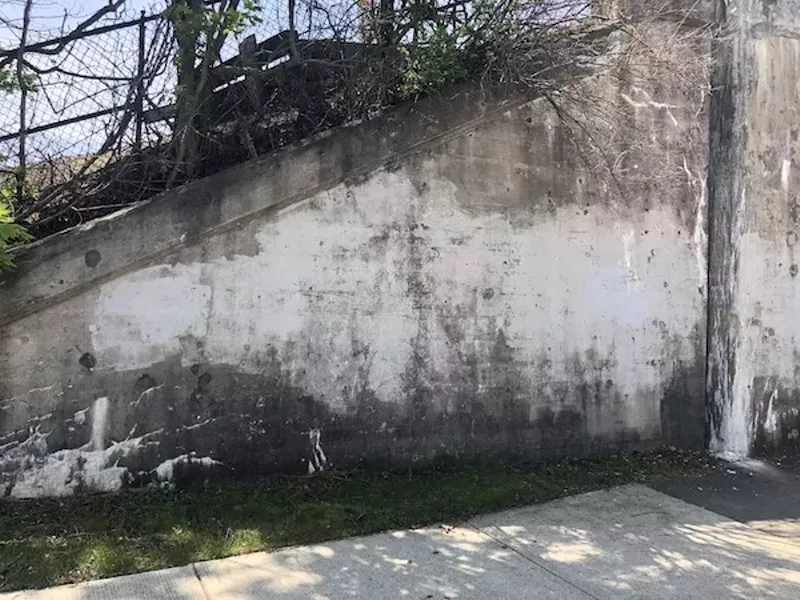 "I really just think really it's just frustration with the railroad companies," Oxley says, "and it sounds like everybody's frustrated."
The artwork has already been buffed to a shade of gray, covering only the graffiti, Oxley says. "And that's the thing," Oxley complains, "people said you could have at least painted the whole bridge gray."
But Oxley says the city of Royal Oak told him that their contract with CN is to cover graffiti and that's it.
A spokesperson for Canadian National Railroad, Patrick Waldron, told
Metro Times
that "the painting was not authorized." Waldron also told MT: "Railroad-owned and maintained bridges represent a vital component of CN's network infrastructure and our focus is on maintaining the safety and structural integrity of our bridges."
Get our top picks for the best events in Detroit every Thursday morning. Sign up for our events newsletter.