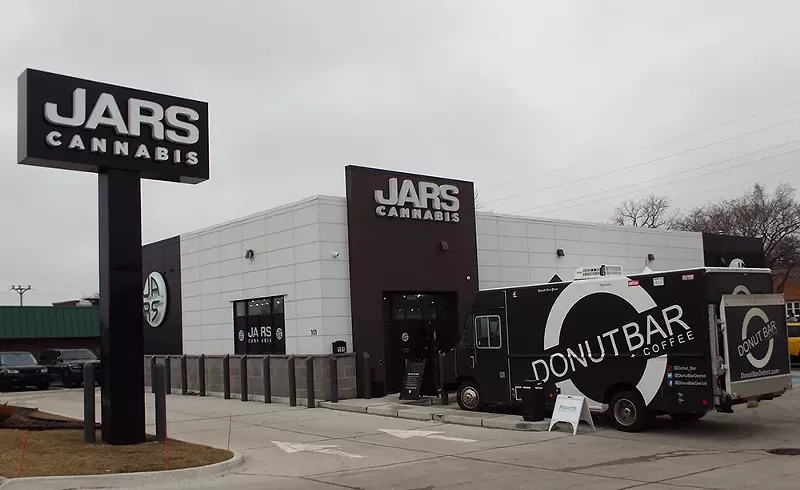 JARS Cannabis opened its latest dispensary in Mount Clemens on Friday with a ribbon-cutting ceremony featuring Mayor Laura Kropp and members from the Macomb County Chamber.
"JARS opening is another sign of the revitalization that we are working very hard to bring to fruition in Mount Clemens," Mayor Kropp said. "This is going to be another economic driver in our town, it's a source of revenue that Mount Clemens desperately needs, and it lends itself to what we are trying to create in Mount Clemens. And that is for Mount Clemens to be the 'downtown' of Macomb County."
She added, "That is the food scene, the entertainment scene, and the cultural scene – and JARS is a part of that entertainment. We know that voters, in 2016, legalized in Michigan, and we wanted to make sure that was represented in Mount Clemens as well. So thank you very much for coming to Mount Clemens, for making Mount Clemens part of your home as well, and again, thank you so much for being a part of that revitalization in Mount Clemens."
The 4,000-square-foot dispensary is located at 101 N. Groesbeck Hwy., Mount Clemens and is open for adult-use sales. All customers age 21 and older are welcome with valid ID.
The Mount Clemens store is the Troy-based company's 15th in Michigan and 25th in the U.S. The company also has stores in Arizona and Colorado.
More information is available at jarscannabis.com.
Coming soon: Metro Times Daily newsletter. We'll send you a handful of interesting Detroit stories every morning. Subscribe now to not miss a thing.

Follow us: Google News | NewsBreak | Reddit | Instagram | Facebook | Twitter