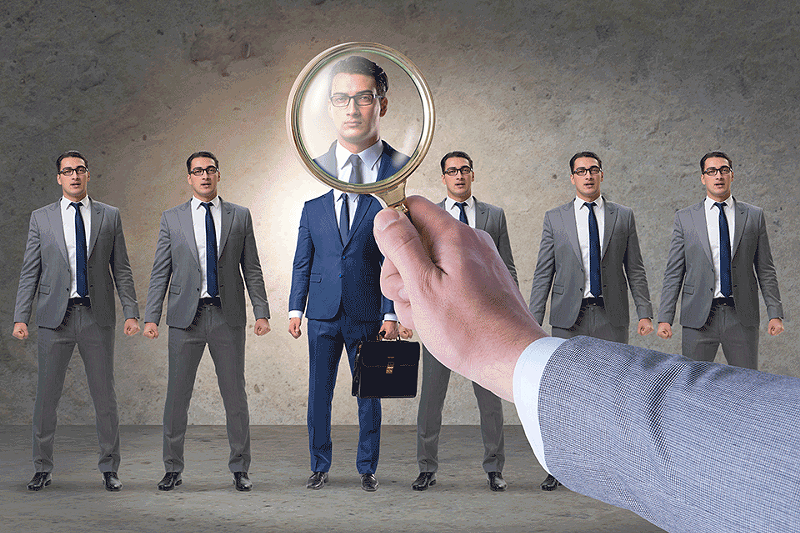 If you're currently applying for a new job, looking for a rental, or starting an educational program, you're likely in for a few background checks.
While background checks can certainly be anxiety-inducing, there are few ways to ease your worries.
In this article, we'll talk about how you can run a background check on yourself, see what's in the public records, and what to look for in your results.
Is it possible to run a background check on yourself?
If you're asking, "Can I background check myself," the answer is yes! In fact, doing a personal background search is extremely simple and easy to do. You can
run background checks
on yourself or anyone else for that matter.
Individuals can
search their criminal record
, court records, address history, and any other personal information they may want to know.
How is this possible? Simply put, there are several companies that provide access to extensive public records online and are able to compile background reports. You can use these sites to search for yourself and receive personal background checks with information from public records.
It's important to note that these sites are only appropriate to satisfy personal curiosity. Common reasons for using a background check site are to search new friends or neighbors, check on divorce records, and check for sex offenders.
Of course, these sites are also great for compiling any information on yourself that may be found in public records. Using these sites takes very little technical skill. All you need to get started is a first and last name, and location.
Why would someone need to run a background check on themself?

There are many reasons why someone may want to run a personal background check. The most common reason is to see what type of information is available through public records.
For example, if you have a criminal history you may want to see exactly what shows up on your records. If you previously had your record expunged, you can run a personal background check to make sure it doesn't show up. You can also use background checks to find out what information is on your driving record.
Another common reason for running a background check on yourself is to see which social media accounts show up. Background checks can actually trace social media accounts attached to a name.
One of the main reasons for running a background check is to check your records before potential employers run an employment background check on you. This can give you peace of mind that your report is clean if you're in the process of applying for a job.
Lastly, you may want to use these services simply to satisfy your own personal curiosity. Running background check searches on yourself can be useful for managing your own reputation. You never know what may pop up!
How to Run a Personal Background Check

Running a personal background check is actually a fairly simple task. Luckily for you, there are a few excellent websites that make it easy to conduct background screenings.
These sites have the capacity to provide highly detailed background checks. That said, no matter what site you use, they are all limited to the information in the public record. In other words, if you search for information that's not public, you won't see it in your report.
Now, before you sign up for one of these sites, you should know that there is a subscription cost for extensive background testing. That being said, if you just want to run a single background check, most background check websites offer a free or heavily discounted trial.
For this article, we'll go over two of our favorite background check companies to show you how to run background checks on yourself.

Truthfinder is a comprehensive background check website that is used to access public records. While many people use Truthfinder to find information on new friends or neighbors, it's also ideal for background screening yourself.
Using Truthfinder for personal background checks is extremely simple. The site has several specific services that can help you find information on criminal history, employment background, and other personal details.
To get the most out of the site, you'll need to create an account. Luckily, this is fast and easy— all you need is a name and a valid email address. You can also log in with Facebook for a more convenient experience.
Once that's out to the way, you can run background reports and search for important information that may be in the public record.
If you're mainly concerned with checking your criminal history, it's a good idea to generate a background check report using the criminal record database.
Now, if you're interested in using Truthfinder, you will have to sign up for a subscription plan. While this background screening service is not free, you do get a great set of features for the cost.

Instant Checkmate is another highly regarded site used for background check searches. Like TruthFinder, this website is used for a wide variety of reasons, including personal background checks.
If you're looking specifically for personal information, be sure to check out court records and criminal history databases to check for any serious marks on your record. You can also use the People Search feature to see what general information you can find on yourself.
One big plus to using Instant Checkmate is that it's available as a mobile app for Android phones. You don't often see this with background check websites, so this is a major benefit.
You can start your search without signing up, but you'll need an account to receive the full report. All you need is your first and last name to begin your search.
The best part about this site is that it offers a 5-day trial for just $1. So, if you're only interested in doing a personal screening, you can get the report without paying the full subscription cost. While it's not free, it's about as close to free as you can get.
What can't you use background check sites for?

It's important that you know that neither of these sites is considered a consumer reporting agency. A consumer reporting agency is used by companies, employers, and landlords for social security number checks, running credit reports and finding other sensitive information.
The Fair Credit Reporting Act dictates that the sites above must not be used for these purposes. If your main goal is to simply run a background check on yourself, you're good to go.
To be clear, the FCRA prohibits the use of these sites for employment screening, credit report history, or housing decisions, amongst other things. As long as you don't violate these terms, you're free to use the sites for personal background checks.
What information can a personal background check tell you?

Conducting a background check on yourself can reveal a lot of personal information. Some of the information you might find in your reports include:
• Arrest and criminal records
•
Warrants for arrest
• Court records
• Social media accounts
• Traffic records
• Past education and jobs
• Owned property and vehicles
• Email address and phone number
• Sex offender registry
Now, keep in mind that any information revealed in a personal background check is available in the public record.
An employment screening done by professional companies might reveal more information not found in your searches. For example, you probably won't find information attached to a social security number or credit report.
That said, screening yourself is a great way to get an idea of what's on your record if you're currently on the hunt for a job.
Aside from criminal background information, background check services can also reveal things such as potential relatives. In fact, many background check websites offer a relative search feature for this very purpose.
Another useful service you can find on a background check site is a dark web scan. This service scans the dark web for any information that is connected to you. This can help you find out if your information is being sold online to scammers.
Things to Look for in Your Background Check Results

If you're using a background check service on yourself because you're facing an employment screening for a potential job, there are a few specific things to look out for in your results.
You'll want to check the criminal records and sex offender registries first to rule out anything serious. Then, make sure to look for educational and job history as well.
Lastly, be sure to check for any social media accounts attached to your name. If you find old social media accounts with offensive or inflammatory remarks, be sure to clean those up. If you do find anything less than desirable, it's best to know before your job screening.
Self Background Checks- Wrap Up

Whether you're interested in self background checks because you're applying for a job, or just to satisfy your curiosity, it's a simple and easy process. Individuals who wish to run a screening on themselves can make use of the sites on this list.
While these companies aren't free, they can help you get the peace of mind you need. Even if your results reveal something concerning, it's better to know what's out there as you look for a future job or rental. With these tools, you'll be one step ahead of the game.