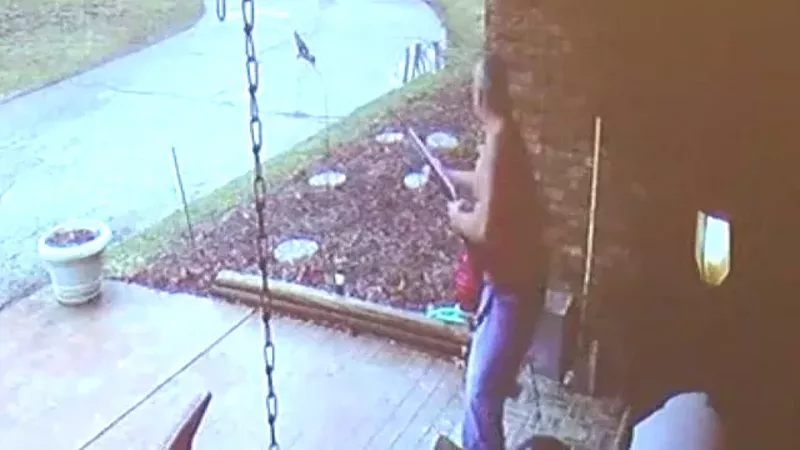 Updated on Friday Oct. 12 at 5:08 p.m.:
A jury has found Zeigler guilty of assault. Find the latest
here
.

Originally posted Thursday Oct. 11 at 10:21 a.m.:
Remember Jeffrey Zeigler, the white 52-year-old former Detroit firefighter
who shot at an unarmed 14-year-old black kid
in April? Zeigler's home security footage of the incident was released to a jury to review on Tuesday, and, well, it doesn't look good for Zeigler.
The teenager, a Rochester High School freshman, told investigators he got lost on his way to school and knocked on Zeigler's door for help. Zeigler, meanwhile, said he thought someone was breaking into his house, and alleges he tripped when running outside, causing his shotgun to accidentally discharge.
But that's not what appears to happen in the video. Instead, Zeigler is shown appearing to aim at the teen, who at that point was already running away after seeing the shotgun.
Oakland County Sheriff's Office detective Shawn Pace said the video changed his mind about what happened, and that Zeigler gave conflicted accounts of the event.
The Oakland Press
reports
:
"When I saw that video, my thought process switched... I knew which direction I had to go. I was shocked," Pace testified. After viewing it a second time, he said he was "charged up, because I was offended by what I had seen."
Pace told the court that after he told Zeigler he clearly aimed at the teen, Zeigler then responded, "I'm tired of being a victim."
You can watch the video, which is making the rounds on social media, below. The trial resumes Thursday and is expected to wrap up on Friday.
Rochester Hills Michigan 6 months ago.

The surveillance footage was just released.

14 y/o Black Teen misses the bus to school & figures he knew the route well enough to walk the 4-mile route. He gets lost, stops to ask for directions, & nearly loses his life.

WHY WE KNEEL! pic.twitter.com/k3cnL3kO6u

— StanceGrounded (@_SJPeace_) October 11, 2018
Stay on top of Detroit news and views. Sign up for our weekly issue newsletter delivered each Wednesday.