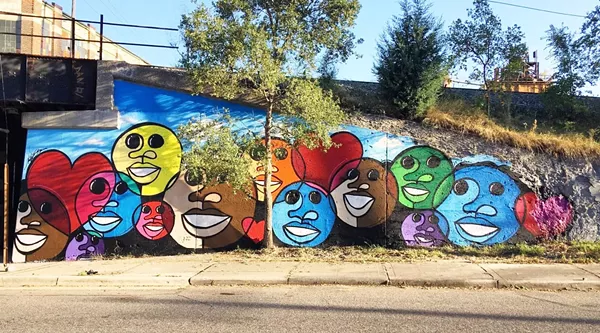 Beautifying the city, legally!
That's what dozens of muralists will be doing as the Detroit government expands its City Walls campaign to sponsor 60 more murals throughout Detroit.
Launched in the summer of 2017, City Walls is an artistic, rather than punitive, element of in the city's never-ending fight to curb graffiti. The program's primary function is to pay muralists to legally paint spots that are magnets for illegal spray paint activity.
Get it? Government-sanctioned art
is
art. Spray paint that the government did not say you could put up is
not
art and therefore
is
👏
a
👏
crime
👏
.
Learn more about the nuance in our cover story from last September,
"Inside Detroit's merciless graffiti crackdown."
Nineteen murals have already been painted as part of the program. As of August 2017, City Walls had a $50,000 budget. It wasn't immediately clear how much the city would devote to expanding the initiative.
While the program's primary function is the Blight Abatement Artist Residency Program (talk about a title fit for an artist's resume!) the city says it is also meant to "beautify the community and help to support the unique identity of each mural project neighborhood."
Stay on top of Detroit news and views. Sign up for our weekly issue newsletter delivered each Wednesday.