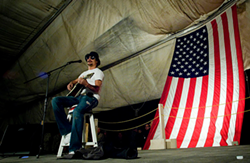 Not sure if this will come as a surprise to anyone but Robert James Ritchie — better known as Kid Rock — has publicly come out with an endorsement for presidential candidate Donald Trump.
The Romeo, Michigan, native and 2012 Mitt Romney champion sat down for an interview with
RollingStone
where he broke down his love for the Trump (and four-letter words).
"I'm digging Trump. I feel like a lot of people, whether you're a Democrat or a Republican, feel like if you get Hillary or Bernie, or you get Rubio or Cruz or whoever, there's going to be the same shit. Has that much fucking changed when anyone's in office, whether it's been a Republican or a Democrat in office, in our lifetime, anyway?" Kid Rock asked. "I haven't really seen this big, like, fucking change. Obviously some people fucked up. [Laughs] That's a long debate. My feeling: let the motherfucking business guy run it like a fucking business. And his campaign has been entertaining as shit."
So basically the fact that Donald has no political background and is amusing (dare we ask Kid Rock how discrimination against Muslims is amusing?) means he is the man to run our country? It would appear that way.
As Rolling Stone points out, Kid Rock has long been an "irregular Republican," telling the rag in 2013: "I don't like the hardcore views on either side and I'm not in bed with anybody. I'd probably be more libertarian, but I'm a firm believer you have to pick a side. I can't be playing the middle." So selecting Donald, the most outrageous in a ragtag crew of candidates is not much a surprise.
Check out more snippets of the interview
here
and the whole thing in the upcoming issue of
Rolling Stone
.