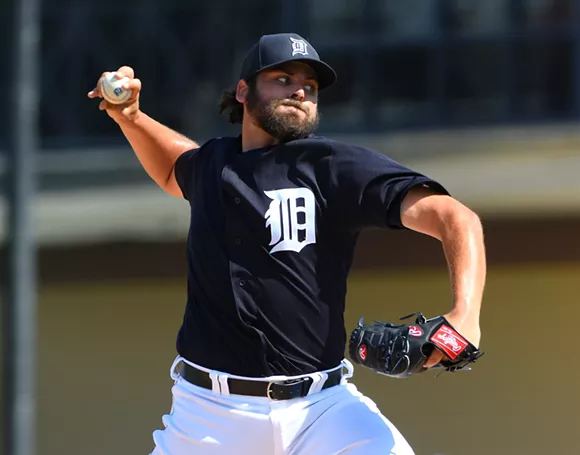 With the 2017 Detroit Tigers season upon us it is time to take in all the majesty that is Detroit Tigers baseball. Detroit Sports Nation editors Alex Muller and Don Drysdale give their thoughts on what the new season will hold for Tigers fans. (Read more analysis at detroitsportsnation.com.)
Fans of the Detroit Tigers were frantically chewing their fingernails this offseason in anticipation of the potential teardown happening in the Motor City. Yet the club opted to retain almost everybody for 2017 and make one last push.
And it just may have been the right move for team management and ownership this offseason — because the Tigers are still very much a threat in the American League, and more specifically the Central Division.
The club is not far removed from their most recent playoff season in 2014. They've had countless opportunities to consider tearing the team down and rebuilding for the future, mostly with outside forces breathing down their necks. But with a potent corps still very much intact, it became clear that the Tigers still have something to say about who runs the show in the AL Central.
The Tigers have a group of veterans still producing at a high level in Miguel Cabrera, Justin Verlander, and Victor Martinez. As those three go, so do the Tigers.
Having said that, there is the ever-growing concern of production level as players of their caliber begin to age and their production begins to dwindle. But the Tigers still possess a group of complementary role players to aid this veteran trio in getting the team back to playing October baseball.
For a number of years, going back to this championship-caliber run in 2011, the strength of the Tigers has been in the hitting. While that aspect of their club is still very much formidable, it is the pitching that could lead the Tigers to a division crown ­— and much more in 2017.
Verlander will be running the show once again and will be the Tigers' Opening Day starter for the ninth time in 10 seasons. For a good portion of last season, he was a one-man show. Now it is looking like he may have plenty of reinforcements in the form of some youngsters.
Michael Fulmer, 24, looks to piggyback his Rookie of the Year campaign in 2016, when he logged a sub-3.00 ERA in 26 starts. Fulmer will be getting the ball in the Tigers' home opener against the Red Sox.
Lefty Daniel Norris, 23, has been impressive yet underrated since coming over midseason in 2015 from Toronto. In 22 games (21 starts) with Detroit, Norris has posted a remarkable 3.48 ERA.
The Tigers will also be hoping for a big bounce-back season from another veteran in Jordan Zimmermann. His first season after signing a five-year, nine-figure deal was terribly marred by injuries. Both the team and fans need to be extra patient with Zimmermann because of health concerns, as they do with the young guns because of their relative lack of experience at the big-league level and being prone to going through rough patches.
Barring some major injury woes — knock on wood — expect the decorated careers of Cabrera and Martinez expect to be in full swing. They, however, will have some help with driving in runs.
The Tigers have one of the better table-setter hitters in all of baseball in Ian Kinsler, who has been nothing short of outstanding in his first three seasons in Detroit. And coming off winning his first Gold Glove as well as helping lead Team USA to their first World Baseball Classic championship, Kinsler's confidence is sky high.
Look for Nick — excuse us, Nicholas — Castellanos to continue his development as a big-league player. Just 25 years old, Castellanos was on pace for an incredible breakout season before being sidelined for nearly two months with a broken hand. However, his offensive numbers significantly improved from his first two seasons in a Tigers uniform. There is also the very real possibility that he finds himself moving up to the No. 2 spot in the lineup behind Kinsler and in front Cabrera, the two-time MVP, thus creating much more opportunities to do damage.
No doubt the Tigers have the talent and the experience to win. But how are they going to stack up with their rivals in the AL Central Division?
It should be a virtual three-horse race this season, with the Cleveland Indians and Kansas City Royals running stride for stride with Detroit. The Minnesota Twins are in a clear rebuilding stage, and the Chicago White Sox waved the proverbial white flag this offseason through some trades. But this is baseball, after all. Anything can happen.
It's pretty ironic given how the AL Central for some time now has been perceived to be the weakest among the divisions in the American League — yet the teams that represented the junior circuit in the World Series each of the last two seasons, and four of the last five, have come from the Central Division.
Both the Cleveland Indians and the Kansas City Royals made noteworthy additions this offseason to add to their championship-caliber corps of players. The Indians are still extremely deep at pitching, but their biggest splash came in signing slugger Edwin Encarnacion to a multi-year deal. The Royals meanwhile also added some lumber in smaller waves, adding Jorge Soler and Brandon Moss, as well as deepening their rotation behind lefty Danny Duffy.
Let's not forget that the Tigers last season against both Cleveland and Kansas City posted a combined record of 11-26. They also finished with a winning record in every month last year with the exception of May (11-17). They ultimately finished 8.0 games back of the division-winning Indians and 2.5 out of a playoff spot, despite those porous records against the Indians and Royals.
They're already in contention. Now is the year to get over the hump.
The Detroit Tigers' home opener against the Boston Red Sox starts at 1:10 p.m. on Friday, April 7 at Comerica Park, 2100 Woodward Ave., Detroit; 313-962-4000; tigers.com.