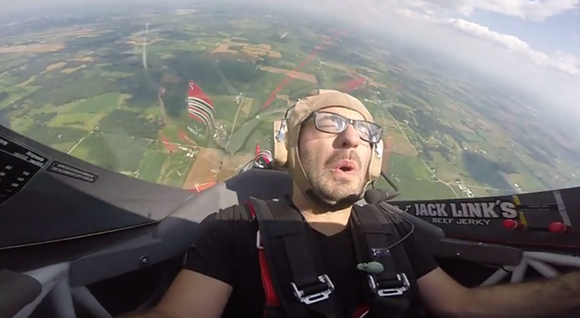 When we got an invitation to ride along in a Jack Link's Extra 300L stunt plane as a preview for the
Thunder Over Michigan Airshow
coming to Ypsilanti this weekend, of course we said yes. It's not every day we get invited to fly in an airplane. We weren't really sure what we were in for.
Our pilot was the too-perfectly named Jeff Boerboon — if he didn't have a career in aerobatics, he could probably be a cowboy. We got word that the U.S. Air Force Thunderbirds were going to practice, which meant the airspace would have to be cleared soon so we'd have to hurry for a quick flight. Parachute instructions are easy: just pull the cord if you feel like you need to use it, blah blah blah.
Boerboon took us up in the airspace over Ann Arbor and proceeded to perform stunts, maneuvering the plane completely vertical and performing a loop. After you get over the fact that it's totally insane that you're upside-down hundreds of feet in the air, it's actually kind of peaceful, being surrounded by nothing but sky. The warm fuzzy feelings end when you complete the loop, and your body suddenly feels a sensation like it's heavier than it was before. Even crazier, Boerboon switched the controls over to us and walked us through performing the maneuvers ourselves.
We tried to keep our cool, but we wound up reaching for the paper bag stuck on the side of the cockpit. After we regained composure, we were ready to kiss the ground. When Boerboon took us back to Earth (and the adrenaline wore off) we asked him for tips on avoiding airsickness, and the scoop on Jack Link's new bi-plane, which makes it debut at the show.

Metro Times:
I almost lost it up there! What'd I do wrong?
Jeff Boerboon:
You don't want to get too focused or close your eyes. That's really the worst thing to do. Usually we instruct to look out at the horizon, to have a nice, big sensation that everything is OK. If I watch the (video) back, and someone got sick, usually their eyes have been closed at some point, and the world just keeps on spinning. It's not a very good thing.
MT:
What's going on with the body when that happens?
Boerboon:
It's the inner ear sensation that you have. When you're standing on the ground, you have a lot of senses working for you. You have the sense of gravity on your feet, and as you get in the air and are in a third dimension, when you're in an airplane like this especially, you can go upside down at any altitude. Your body is feeling stuff you've never felt before. You can't get that stuff anywhere — roller coasters, you're still grounded. You're on a roller coaster, and that's on a set of tracks. That's all regulated, whereas this is complete freedom.
MT:
Do you get used to it?
Boerboon:
My first aerobatics instructor, he could only go for five minutes and we had to land because he was getting sick. If I took you flying again tomorrow, you would probably not have any of the same feelings, though.
MT:
How long have you been doing this?
Boerboon:
I've been doing this for a long time. This is my third year working for John Klatt Airshows. This is our inaugural year with the Screamin' Sasquatch.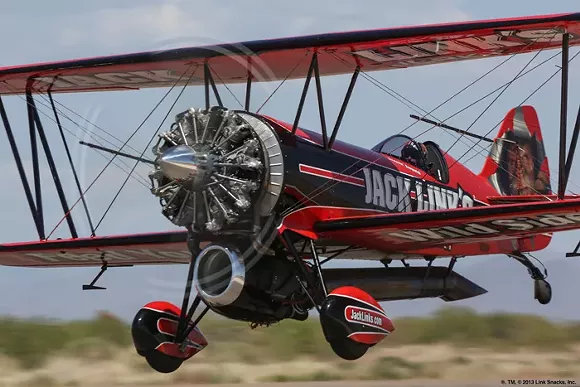 MT:
What's the Screamin' Sasquatch all about?
Boerboon:
This is a 1929 Taperwing Waco bi-plane. It's not like an original — it's been extremely beefed up. This (engine) is a 985, which is an engine that you would normally find on a bi-plane. It's a three-blade propeller. This combination here, we get about 1500 lbs. of thrust. But we also added a jet engine. In 1929 there were no jet engines! And if you had one, you wouldn't put it on this.
This engine here came came off of a Cesna Citation CJ. You've heard of Learjets, right? It's a similar engine to that. This came right off of a Learjet. This engine is a CJ6-10, and it provides 3,000 lbs. of thrust in addition to the 1,500 lbs. The airplane, in total, with me in it, is about 4,000 lbs. So you can see with 4,500 lbs. of thrust, it does things that nobody else can do. I can pull right up to a vertical stop and just hover there. It's ridiculous. The airplane originally was like a 110 mile and hour airplane. We fly it now at a maximum of 250 miles an hour.
MT:
Can we take a look inside?
Boerboon:
This is my office. [Points to computers screens.] It's all pretty modern.
MT:
I'm guessing this is not original 1929 equipment.
Boerboon:
No.
MT:
What's that? [A piece of paper with indecipherable squiggles on it is attached to the cockpit.]
Boerboon:
These hieroglyphics over here are my air show routine. It's kind of a road map of everything that I do. Here, I do something called the "Tower of Power." The I draw an "SS" in the sky for the "Screaming Sasquatch."
MT:
What other planes will be there this weekend?
Boerboon:
We have the U.S. Air Force Thunderbirds. The rest of it is mostly vintage war planes. The show here is kind of tailored around that. The (Screamin' Sasquatch) is really the only civilian act in the show. We're only doing 12 shows with this airplane.
You're familiar with the Jack Link's "Messin' with Sasquatch?"
MT:
It's "messin' with a bi-plane."
Boerboon:
It's "beefed up."
The Thunder Over Michigan Air Show starts at Aug. 9-10 at Willow Run Airport, 801 Willow Run Airport, Ypsilanti Township; ticket prices vary; check out yankeeairmuseum.org/airshow for more information.