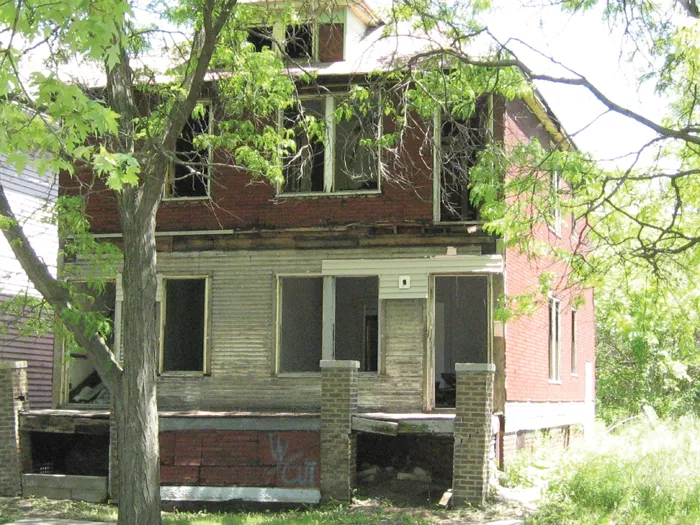 On Joseph Campau, between Superior and Alexandrine, there are three abandoned homes just waiting for new tenants. There's another house that appears to be abandoned, but upon further inspection, the Abandoned Structure Squad found a note from the friendly owners in blue spray paint that read, "Taxes paid in full. No copper. Do not enter or scrap. Somebody lives here." ASS also heard what sounded like two dogs violently throwing their bodies against the boarded entrance. Hey, it's reassuring to know that your future neighbors are responsible pet owners.
Built in 1900, the house at 4125 needs a little tender loving care before it's ready for occupancy. The yard could be very lovely after clearing away the overgrown foliage and gravel. The porch, which is covered in moldy Astroturf, is falling apart. Visitors are therefore encouraged to enter through the front window, which is clearly indicated with spray paint. The 1,446-square-foot deathtrap features one-and-a-half baths and is owned by the Detroit Land Bank Authority.
The Abandoned Structure Squad struggled to find tax records, since there are no addresses indicated anywhere on the structures. These relics were all built at least in the early 1900s, if not earlier. Some are brick. Some are wood. Most of them still have asbestos. None of them have windows. All of them come equipped with a paralyzing sense of dread.
In an attempt to learn more about the neighborhood, Abandoned Structure Squad members engaged a woman on a bicycle who lives on the block, who all but told us we should leave the area immediately. "There are some houses further east that are really beautiful that start around $1,000, but you don't want anything around here," she said. "These have all been scrapped and picked over."
While the squad was on-site, a man in a pimped-out, gold-trimmed black Cadillac drove down Superior Street, rounded the block, and then drove down Joseph Campau. Slowing his vehicle to a crawl, the man leaned over the passenger seat and scowled at the mysterious visitors in his hood. We can only assume that he's a member of the ever-vigilant Neighborhood Watch, another plus to living in this vibrant area.
One block over, on Mitchell Street, is the James & Grace Lee Boggs School. This diamond in the rough has a brand-new, fenced-in playground for the kids to play in. On the edge of the school's property, next to a vacant lot with waist-high grass, there are some well-kept wooden garden boxes. Shockingly, few reported crimes were found in the squad's research of the area. Perhaps the proximity to the school is a deterrent for criminals.
Know of an abandoned structure you'd like the squad to assess? Email [email protected].