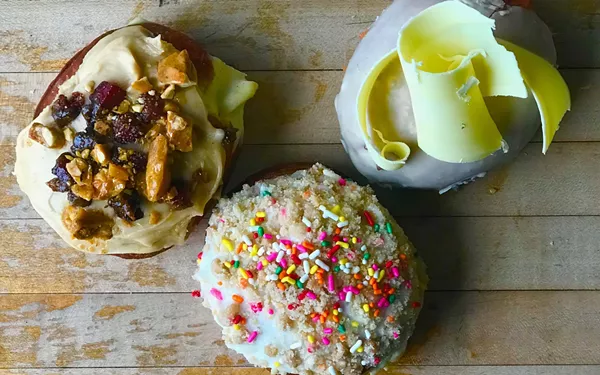 Before the Lenten fasting can begin, metro Detroiters celebrate the Christian-adjacent holiday of Fat Tuesday with those pillowy, deep-fried confections known as Paczki.

Detroit's Polish roots run deep and when the sacred feast day comes, our stomachs are subjected to some unholy gluttony. The Eastern European donut comes in many shapes, sizes, fillings, toppings, and textures, which we could wax poetic about all day long, but if you want to learn more about the treat's wacky history, you should click here.
The calorie-packed delicacies will be served at just about every bakery, donut shop, and deli in the area, so getting your hands on one won't be a problem, but if you're looking for other ways to celebrate this Feb. 13, here's a list for you.
1. The 2018 Accidental Paczki crawl will take you across Hamtramck to a myriad of different bakeries and bars beginning at 7 a.m. New Dodge, Whisky in the Jar, P.L.A.V Post #10, Smalls, Trixie's, Baker Streetcar Bar, Hamtramck Moose Lodge #1670, and The Painted Lady are all on the list.
2. Want to feel a little better about eating a 450-calorie doughnut? Participate in the Paczki Run on Saturday, Feb. 10. Three thousand 5K runners will dash through Hamtramck, only to be met with beer, polka music, and paczki at the finish line.
3. Rochester Mills Brewery is having their own celebration, but this one is more akin to a Mardi Gras party. They'll be serving up cajun- and creole- inspired food with live music and drink specials all day. 400 Water St. Rochester; Open at 11:30.
4. Motor City Gas in Royal Oak will have $2 paczki from Hermann's Bakery paired with their unique selections of bourbon and whisky. 325 E. 4th St. Royal Oak; Open at noon.
5. A Mini Mardi Gras celebration at the Monroe County Museum is free and will highlight the French influence on Fat Tuesday. The family friendly event will have lots of activities and carnival games. 126 S. Monroe St., Monroe; 4 to 7 p.m.

6. Small's Bar is putting on their biggest party of the year. Open all day, there will be live music, Polish food, and, of course, the paczki bomb. The Hamtramck bar is famous for serving the liquor-infused jelly donut every Fat Tuesday, and they sell out every year. 10339 Conant, Hamtramck; 10 a.m. to 2 a.m.

7. If you want to get a taste of some of Metro Detroit's more eclectic paczki variations, stop by The Union General Store and Honcho's Latin Street Food and Coffee in Clarkston. They'll be serving specially made varieties like the Fat Elvis (banana custard filling, peanut butter glaze, candied bacon, peanut brittle), the Violet Beauregarde (blueberry filling, lemon zesty sour cream glaze, oatmeal streusel), the Birthday Cake (vanilla custard, sugar glazed and vanilla streusel and sprinkles, and the Blood Orange Margarita (blood orange marmalade, salted caramel icing, white chocolate shavings). Pre-order this pack for $13.95 or get them individually for $3.95.

8. Eat coney paczki at American Coney Island. The blessed union of Detroit's most iconic dishes will only set you back $5.

If you just want to eat a paczki, for crying out loud, you can check out this list of places to get them here.