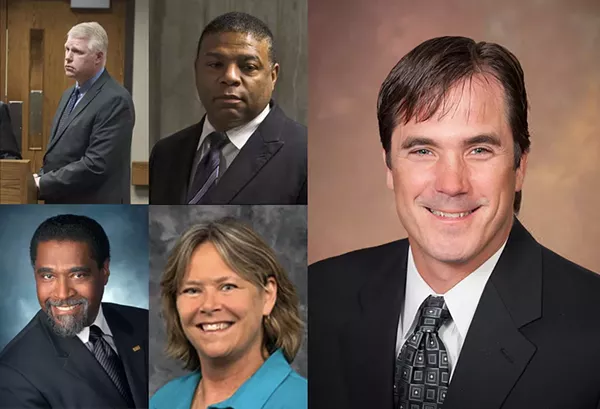 On June 14, Attorney General Bill Schuette and his Flint investigative team stood before an image of the city's water tower and announced the highest-level criminal charges yet to be filed in connection with the Flint water crisis. They charged Michigan Department of Health and Human Services Director Nick Lyon — the highest-level official yet — and four others with involuntary manslaughter for failing to alert the public of a deadly outbreak of Legionnaires' Disease, leading to the death of an 85-year-old former auto worker. Robert Skidmore was diagnosed with the disease in June of 2015, after others had died in an outbreak that began the year before. He was one of a total of 12 people who died of Legionnaires' by 2016, when prosecutors say officials finally warned the public of an increase in cases.
The charges mark a turning point in the investigation into Flint's water crisis, which has led to criminal charges against 10 other former and current local and state officials. Schuette said his team would now focus on prosecuting those accused, while leaving open the door to the possibility of additional charges.
Reckless and negligent
Prosecutors will aim to show the five officials were grossly negligent in their response to the Legionnaires' outbreak as they aim to secure involuntary manslaughter convictions. In the case of Lyon, charging documents say he knew of the outbreak by January of 2015, and didn't notify the public for another full year. Prosecutors say he also sought to "suppress information illustrating obvious and apparent harms that were likely to result in serious injury," and blamed significantly elevated lead levels in Flint's drinking water supply on "seasonal fluctuations." Lyon even allegedly denied help from Centers for Disease Control's Legionellosis Surveillance & Outbreak Response Division, which had grown concerned about the outbreak it characterized as "one of the largest" in the past decade.
But perhaps more shocking than the way prosecutors say Lyon handled the case is the way in which he allegedly defended his actions: Charging documents say Lyon stated that he "can't save everyone" and that "everyone has to die of something."
(Governor Rick Snyder has also defended the response by Lyon and another cabinet member charged with a lesser crime. He's allowed both to stay on the job.)
A challenging case
But even if jurors believe all of the above to be true, prosecutors will still have to show that Skidmore's case of Legionnaires' can be traced to Flint's tainted water supply and that inaction by public officials led him to contract the disease. And even though cases of Legionnaires' spiked dramatically after the city switched its water source to the Flint River in 2014 — health officials recorded 91 cases in a 17-month stretch when fewer than about a dozen had been the yearly norm for Genessee County — that won't be easy to prove. Wayne State University law professor and former prosecutor Peter Henning says he expects the trial to become a "battle of the experts."
"Was it only contaminated Flint water or could it have been from some place else?" Henning says, noting that some of those who were diagnosed with Legionnaires' had stayed in the same hospital. "Scientists are loathe to say with absolute certainty 'I know this,' they're much better with hypotheses. [Even if they say] it's more likely than not it came from [the Flint water contamination], does that prove guilt beyond a reasonable doubt? Maybe, maybe not."
Prosecutors will also have to prove that alerting the public of the outbreak in a timely manner could have kept Skidmore from contracting the disease.
"What if there had been a warning and Skidmore never heard it or paid no attention to it?" Henning says. "It won't be easy to establish that a non-act resulted in Skidmore's death."
Jail time
Even if prosecutors convince a jury that Lyon and the others are guilty of involuntary manslaughter, experts say the officials will face minimal jail time, if any at all.
While the crime carries a 15-year maximum prison penalty, Michigan looks at a person's criminal history and other aggravating factors to determine how long someone should be put behind bars.
"I would be surprised if the minimum prescribed by sentencing guidelines was more than a year or two for any of these people," says University of Michigan Innocence Clinic director David Moran, who is not familiar with the backgrounds of the public officials charged.
He added that guidelines of 12 months or less leave much to a judge's discretion, and could lead to a sentence of only probation.
What about Snyder?
Though two officials in Snyder's inner circle have now been charged in relation to the water crisis (Department of Health and Human Services Chief Medical Executive Dr. Eden Wells is also charged with criminal wrongdoing), Schuette said on June 14 that when it came to the governor, "no crime had been established" and he would not be "filing charges at this time."
But in a Q&A with reporters, it emerged that Schuette had never even interviewed the governor, though he claimed his team had tried to do so. That effort apparently did not involve issuing a subpoena, which Henning says would have taken the attorney general "all of five minutes."
According to Snyder's counselor, Brian Lennon, the governor was willing to testify under oath and had scheduled a time and date for an interview, but a subpoena was never produced.
"This is very odd," says Henning, who saw the back and forth as a product of Snyder and Schuette's strained relationship. "The governor could come in voluntarily and testify under oath, so the notion that 'well, you never sent me a subpoena so I couldn't cooperate,' that doesn't work.
"This is really a legal technicality on each side ... but when a relationship gets contentious, you look for little nibbling things to rub the other side's nose in."