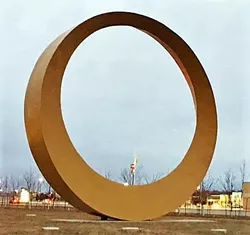 And on the seventh day, God bestowed a most-holy name upon the Sterling Heights $300,000 roadside attraction previously – and unofficially – dubbed The Golden Butthole. From here on out, it shall be known as 'The Halo.'
After announcing a public official naming contest last week, the city of Sterling Heights received more than 6,000 individual submissions. With each submission including up to three names each, the city of Sterling Heights received more than 18,000 name suggestions for the 35-foot-tall steel and aluminum portal erected in January. Since its completion, it has been lauded for being a waste of taxpayer dollars and for looking like a big
ol
' backdoor perched proudly on a median across from Lakeside Mall.
Upon receiving the submissions, the city was tasked with choosing its favorite five names. Once determined, voting was, once again, opened up to the public who had to choose between The Sun Gate, The Overture, the Standing "O", The Aurum, and The Halo.
With over 947 votes, The Halo was chosen. Submitted by Sterling Heights resident, Connie Truszkowski, the city suggests that folks can refer to the pricy golden icon as the "Halo on Hall Road" or the "Hall Road Halo" or just "The Halo." Or if you're one of the 11,000 of people who have joined the
Golden Butthole of Macomb County
Facebook group, it will forever be the Golden Butthole.
Even though, according to the city's community relations director, Bridget Kozlowski, the Golden Butthole was never in contention.
"Only appropriate names will be finalists," Kozlowski told
Freep
before the selected names were announced.
So there you have it. The saga of the Golden Butthole has been flushed. Many are reeling with denial, refusing to concede that The Halo is the chosen name. Others are feeling uplifted by their city's supreme art piece. But no matter which side of the sphincter you may find yourself on, a butthole is pretty much the body's halo and for that, we are blessed.
Stay on top of Detroit news and views. Sign up for our weekly issue newsletter delivered each Wednesday.