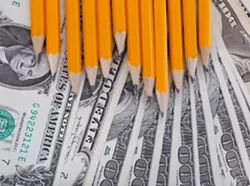 The Education Achievement Authority, a state-run school district created by Governor Rick Snyder in 2011, owes Detroit Public Schools over $14 million, according to emails uncovered by
WXYZ
.
According to the station's education reporter Kim Russell, while DPS's deficit was ballooning the past few years, the EAA was not only not paying rent (its 15 schools are housed in DPS-owned buildings) but it was ignoring bills for services, such as IT and security, provided by the traditional school district.
The emails obtained by WXYZ indicate that the district — which is now known as The Detroit Public Schools Community District — believes the EAA owes it $14.8 million, and that Judge Steven Rhodes, the district's current Emergency Manager (who goes by the moniker: Transition Manager), is demanding to know when the money is going to be paid back.
For a quick primer: The EAA was announced to the public in May 2011 and began in September of that year. Originally, it was supposed to be a statewide district for the state's lowest performing schools (those in the bottom 5 percent in terms of academic performance). It, however, only went so far as Detroit.
Fifteen DPS schools were placed in the EAA that fall. The district, which was created through an inter-local agreement been Eastern Michigan University's board of regents and then-DPS Emergency Manager Roy Roberts, was advertised as a recovery — or turnaround — district.
The promised academic gains, however, have not exactly happened. As Russell explains in her report on the money owed, only one 4th grader passed the math section of the state standardized exam last year.
This lack of academic improvement is just one of several issues that has stirred controversy around the district in recent years. The EAA has also been called out for lacking public accountability (the board is comprised of appointees by Gov. Rick Snyder, then-EM Roberts and the EMU regents), hiring heavily from Teach for America (a controversial teaching program, which has been accused of pushing traditional teachers out of the classroom and only comes with five and a half-weeks of training), utilizing an
experimental, tech-heavy curriculum called BUZZ
(which had never been used in another district before), and taking funds away from DPS (since state funds are allotted on a per pupil basis, the removal of 12 schools from the district greatly deceases DPS's overall funding).
News that the state-created district was now not only financially hurting DPS through its removal of students (and therefore per pupil funding) but also through the lack of payment for basic services is irksome and troubling for those such as LaMar Lemmons, a member of DPS's elected (but exiled) school board.
"It shows the malfeasance of the state's operation of the EAA," Lemmons, who is calling for a federal investigation, told Russell of WXYZ.
These thoughts were reiterated by Thomas Pedroni a professor at Wayne State University's School of Education, who has been studying the effects of state interference in DPS.
"The revelation of the $14.8 million debt, which exists at Snyder's pleasure, comes at a time when DPS children have faced a siphoning off of classroom dollars that might have been used to alleviate ballooning class sizes, repair dilapidated and dangerous buildings, and attract and retain high quality certified teachers in the district," Pedroni tells
MT.
"Snyder's control of the EAA, much like his control of Flint, has always been about enriching business opportunities whatever the cost to the health and wellbeing and future lives of Black children."
The EAA, on the other hand, is maintaining that they were in the right to not pay rent to DPS. In a statement released Tuesday evening, the district's Chancellor Veronica Conforme explained that the EAA does not owe DPS anything, as the recent Detroit Ed legislative package addressed their debt as well.
"This is not about neglecting to pay," Conforme said. "This about equity for all students who have been forced to shoulder this debt for the last decade. We finally got leadership at the state to resolve this issue for all children in Detroit — not just for Johnny in DPS and forgetting Anthony in the EAA. The governor has been clear with me that the debt was solved for all of us. As such, we presented a budget to our board that eliminated the lease obligations to Detroit Public Schools."
This statement seems to contradict that of the traditional school district, who has said they are currently working in a payment plan with the EAA.
"The Detroit Public Schools Community District (DPSCD) is currently negotiating payment for the current services that it provides to the Education Achievement Authority of Michigan (EAA)," Interim Executive Director of Communication, Chrystal Wilson said. "These include tech support, telephone and security services for the 2016-2017 school year. DPSCD aspires to provide excellence in education for its students. It is on a path to achieve that goal. EAA's payment of the millions of dollars that it owes will further help achieve that goal."
In February EMU's Board of Regents voted in favor of ending its interlocal agreement with DPS in June 2017, therefore invalidating the EAA (their vote followed a statement from Gov. Snyder saying he was "open" to ending the EAA). Currently officials in the city are trying to figure out what will happen to the state-created district, and whether or not it will be re-absorbed back into DPSCD.
This post has been updated.