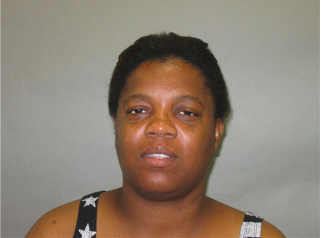 A woman facing 20 years in prison for allegedly trying to fire bomb Carmen Harlan's house reportedly believed she was acting for the benefit of Detroit.
Kizzy Nickerson, seen above sporting what appears to be a patriotic tank top, allegedly threw a Molotov cocktail at the now-retired WDIV newscaster's home because she believed Harlan was somehow responsible for the city's crime rate.
Detroit Police say patrol officers witnessed Nickerson throw the incendiary device at Harlan's Indian Village home in broad daylight on Jan. 29. She was also allegedly carrying a backpack full of bricks at the time.
The Molotov cocktail didn't make it to the house and only set the lawn on fire, but Nickerson is still facing a handful of explosives and arson charges.
The 39-year-old woman has a criminal history dating back to the early 2000s and has spent five years in prison for retail fraud. She was on probation as recently as 2013 for assaulting a police officer.