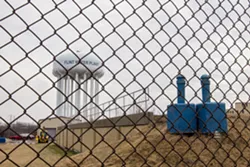 Michigan Attorney General Bill Schuette has pressed charges against six state employees in relation to the Flint water crisis.
Three individuals from the Michigan Department of Health and Human Services (MDHHS) and three from the Michigan Department of Environmental Quality (MEDQ) have been charged with felony and misdemeanor charges, according to Schuette at a Friday press conference at University of Michigan-Flint.
Those charged from the MDHHS include Nancy Peeler, Corinne Miller and Robert Scott. The trio all face charges of misconduct in office, conspiracy to commit misconduct in office and willful neglect of duty. The charges stem from allegations that they concealed and proceeded to ignore test results that showed Flint residents having high-levels of lead in their bloodstream.
At the press conference Schuette stated that in Fall 2015 epidemiologist Cristin Larder presented a report showing that blood tests done in July - September 2015 found that Flint residents had increased levels of lead in their blood. The trio, according to Schuette, not only ignored the report but trumpeted bogus findings in its stead. Miller, who was the state's top epidemiologist (who since left the department) had specifically ordered employees, such as Peeler and Scott, to ignore Larder's findings.
"This put children of Flint in the crosshairs of drinking poisoned water," Schutte said.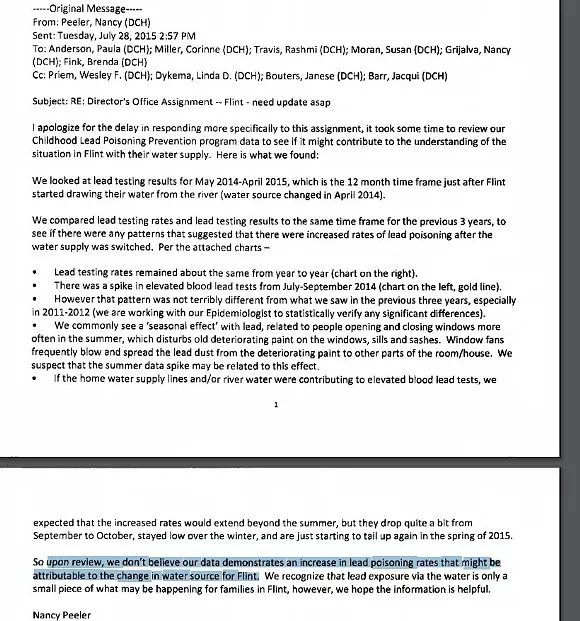 "Scott and Peeler conspired together and with others known and unknown to effectively bury Larder's report warranting further investigation," Jeff Seipenko, an investigator in Schuette's office said in court prior to Schuette's conference
.
"Defendants Peeler and Scott's failure to disclose Larder's report was to the detriment of the health and welfare of the citizens of Flint."
As for the MDEQ, charges were filed against Liane Shekter-Smith the former chief of Michigan's Office of Drinking Water and Municipal Assistance, and Adam Rosenthal and Patrick Cook, two current water regulators.
Shekter-Smith, who is the only state employee to be fired for actions regarding the Flint water crisis, faces charges of misconduct in office and willful neglect of duty. According to Schuette, she ignored many of the growing issues and concerns surrounding Flint's water.
"Evidence has shown that throughout this time period, defendant Shekter-Smith intentionally mislead and took affirmative steps to conceal from her supervisors at the MDEQ and the public the safety and severe health risk associated with using the water," Seipenko told the judge Friday morning, according to the
Detroit News.
Rosenthal, who was in charge of overseeing Flint's water testing reports between April 2014 and October 2015 (when the city's water source was
connected to the Flint river), has been accused of tampering with results and more specifically manipulating a Lead and Copper Rule report that was submitted on Flint's water last summer, saying — as he was working on it — that he needed more results to go in the "right direction." He faces three felony charges: misconduct in office, conspiracy to tamper with evidence and or engage in misconduct, tampering with evidence, and one misdemeanor charge: willful neglect of duty of a public official.
Cook, a water treatment engineer, was tasked with making sure Flint was adhering to the federal Lead and Copper Rule, however, according to Schuette he "misled" the Environmental Protection Agency. In addition to allegedly working with Rosenthal on the incorrect Lead and Copper Rule report, Cook, according to Schuette, said water tests were occurring in Flint, when they were in fact not. Cook was charged with misconduct in office, conspiracy to engage in misconduct in office and willful neglect of duty.
"Their job was to ensure families of Flint had safe water to drink," said Schuette, who finished his announcement by reiterating that his office has so far charged nine people with crimes relating to the Flint water crisis and interviewed over 200 people.
"In Michigan, the system is not rigged," he said to begin his announcement.