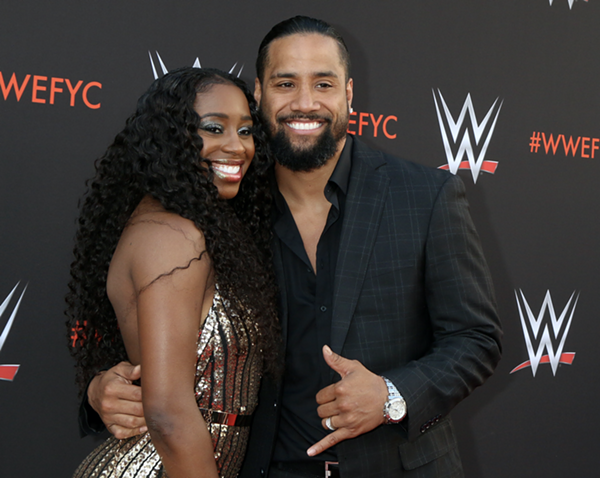 Wrestler Jimmy Uso (real name Jonathan Solofa Fatu) allegedly attempted to go toe-to-toe with Detroit police on Thursday, before being arrested for disorderly conduct.
The WWE superstar and SmackDown champion was arrested Thursday night following a traffic stop during which the 33-year-old wrestler allegedly removed his shirt and jacket and positioned himself in a fighting stance toward the police.
According to
TMZ
, Uso and his wife, fellow WWE performer, Naomi (real name Trinity Fatu), were pulled over while in downtown Detroit after she was seen driving down a one-way street in the wrong direction. The police asked Naomi to step out of the car as the vehicle was alleged to smell of alcohol — she complied. That's when Uso, who was instructed to stay put, reportedly emerged from the car, removed his shirt and jacket, and stepped up to the officer who then threatened to tase the SmackDown star.
After calming down, Uso was arrested for disorderly conduct and obstruction, according to
TMZ
, and was taken to jail before posting bond. The gossip outlet also confirmed that Uso's Detroit visit was not related to a WWE event or appearance.
The arrest might not be bad news for the couple as
Fox News
cites unnamed sources associated with WWE claiming that both Fatus are actively trying to get fired by WWE so that they can pursue an opportunity with All Elite Wrestling, something they are not able to do while under contract.
Stay on top of Detroit news and views. Sign up for our weekly issue newsletter delivered each Wednesday.