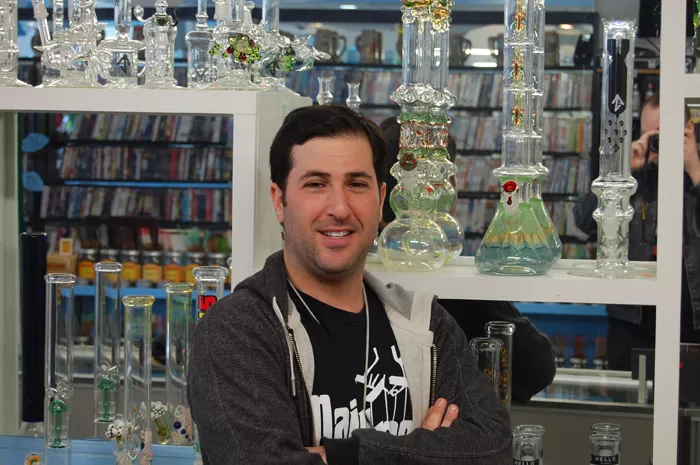 Shelby Berger and his family have been running the Main Street Pawn Shop in Pontiac for nearly a half-century. Three years ago, they expanded into the building next door, opening the Cloud 22 Head Shop. More recently still, Berger opened Patriot Firearms and Outfitters across the street, completing what he calls his "Bermuda Triangle." A staunch supporter of Pontiac, Berger spoke openly and honestly about the medical marijuana laws and gun control when we grabbed him recently …
Metro Times: When did the pawn store open?
Shelby Berger: The family's been in Pontiac for generations — 40 or 50 years. I studied at Michigan State and I decided, when the party was over, it was time to get into the family business. I thought it was a natural fit, when the building became available next door, to open up a head shop. It blew up from there. One artist came in, then two artists came in, we started blowing our own glass, and that's when I met Alex Vicknair. He's the godfather of glassblowing and I'm really happy to be partnering with him.
MT: What did you study?
Berger: I studied communications with a specialization in public relations. Not necessarily so much to be a pawnbroker, but you've definitely got to communicate in this business, especially at the head shop. You've got to be able to help people find out what they want. I knew my place was with my family. I went to school to learn about me, to learn about life, and when it was time to come home, it was time to get to work.
MT: When did you open the head shop?
Berger: Three years ago. It's the only one in Pontiac. It's also the only one where you can get custom glass made. We specialize in higher-end custom stuff, but we sell $5 stuff too. We try to carry a little bit of everything, from DVDs and VHS to the custom glass.
MT: Have the changes in medical marijuana laws improved business?
Berger: Without question. It's very good for business. People are slowly opening the door a little bit more. It's OK to come and talk about butane hash oil or earwax hash. They didn't know what that was and where else to go. You can come into our store, and we're super knowledgeable about what's going on in the industry. It's a lot easier to talk to someone freely about medical marijuana, about marijuana at all, when they have their card. If you come into my store and you don't have your card, it's a water pipe. If you do have your card, and you're a patient, it's an apparatus for smoking herb. There's a big difference and we have to walk a fine line.
MT: On first glance, owning a gun store and a head shop couldn't be more different …
Berger: Absolutely. They're opposite ends of the spectrum. One's like you walk in and get a hug. The other, you walk in and get a different kind of feeling. There's a massive difference. The principle's the same, though — education and helping people make decisions on big life choices. Things you're going to ingest, things you're going to shoot and protect yourself with, things you're going to have fun with.
MT: What's the appeal for you, of both pot and guns?
Berger: I like the thrill of the guns, and the chillness of the pot. To be honest with you, I like both ends of the spectrum. Not at the same time, definitely not. Ever since I was a kid, watching kung-fu movies, I was hooked on guns. As soon as I could own a handgun, I jumped all over it. As I got even older and I learned about the benefits of medical marijuana and the tools, I had to take it to market. I enjoy it personally, and I also like selling so it was a natural fit. I have to say though, if I don't like something about the purchase of a gun, there's no sale. If you say anything that we deem inappropriate in relation to a gun, we don't sell. If I smell alcohol on you, I'm calling the cops on you. If you say that you're going to do something physical to somebody with a gun, same thing. We're here to do it right.
MT: You're very enthusiastic about Pontiac and its potential …
Berger: I've been here since I was 18 years old. I'm 32 now. I've seen the worst and I've seen the best. There are good people here now. There are people with a grass-roots movement like you sort of see in Detroit, but you don't hear about it. There's no Dan Gilbert here. My dad, Ron Berger, is the ghetto Dan Gilbert. There are tons of buildings being bought. The homeowners, the building owners, the business owners — people are investing in Pontiac like I've never seen before. Come here on a Friday night and look for a parking spot — this place is booming. We don't have the big tidal waves like Detroit has, but we're in Oakland County and we're surrounded by niceness. We have no choice but to be nice.
MT: What's the weirdest thing you've been offered at the pawn shop?
Berger: I can't stand when people bring in gold teeth. I hate it. It's actually quite high-value gold. I can't stand it though — I just don't deal with that. People have walked in with prosthetic legs and caskets.
MT: Do people get annoyed when they return for their items after the deadline, and their stuff is gone?
Berger: I deal with that on a daily basis. It's a tough thing to tell someone that their stuff is gone, but I have to every single day. Twenty minutes before you walked in, a guy came in to pay on his iPhone 5, and it's three weeks past his due date. I don't run in the back on 90 days and pull it. I'd rather you come back in, get your item, pay me my little bit of interest, and around and around we go. We're not the biggest pawn shop, but you're walking out of here with money if you have something of value.
Cloud 22 is located at 22 N. Saginaw St., Pontiac; 248-481-8600. Main Street Pawn Shop is next door at 20 N. Saginaw St,; 248-334-4235; mainstreetpawnshop.com. Patriot Firearms & Outfitters is across the street at 19 N. Saginaw St.; 248-451-0994; pontiacpatriots.com.