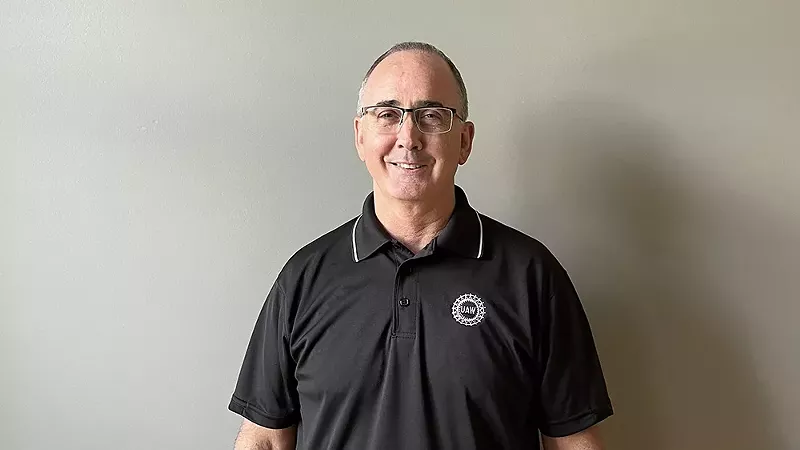 The workers have spoken.
Reform candidate Shawn Fain has officially won the runoff election for the president of the United Auto Workers, earning a four-year term and ushering in a historic new era at the embattled labor union that has been mired in corruption.
After a weeks-long nail-biting slog in which some hundreds of ballots were challenged for validity, Fain, a 54-year-old electrician from Kokomo, Indiana, declared victory on Saturday and incumbent Ray Curry conceded defeat.
"For too long, this union has been divided," Fain said in a video statement posted Saturday afternoon. "We've been divided by corruption and self-serving leadership at the top. The UAW once set the standard for what a clean, progressive, member-led union looks like. But the last few decades have seen us veer far off course. UAW officers, the people elected to lead and serve this great union, have taken bribes, stolen dues, and betrayed the trust of the membership. That ends here."
🧵 A Message to All UAW Members from Shawn Fain, UAW President-Elect:

Today, we won a historic victory to put the membership of the UAW back in the drivers seat of our international union.

(Full video here: https://t.co/U4uP3bACK6) pic.twitter.com/qcZpLlz1Bn

— UAW Members United (@uawmembers) March 25, 2023
With Fain's victory, candidates from the Members United slate have officially swept all seven recent UAW leadership elections, which also included secretary-treasurer, two vice presidents, and regional directors.
"Tomorrow, Shawn Fain will be sworn in as UAW president, and he will chair our 2023 Special Bargaining Convention," Curry said in a statement posted to the UAW website. "I am committed to ensuring that this transition is smooth and without disruptions. I wish him, the entire UAW International Executive Board, staff and clerical support as well as UAW's membership great success for the future."
The stunning upset follows an FBI probe into corruption at the UAW, which resulted in 13 union officials including two former presidents charged with crimes such as embezzlement, kickbacks, and collusion. As a result, the Department of Justice brokered a consent decree with the union that gave UAW members the ability to choose leadership by direct vote, as opposed to a system of delegates, which critics said encouraged cronyism.
It was the first direct election at the union's 88-year history.
In 1946, Walter Ruether won the UAW presidency in another close election, winning by just 124 votes. But once in office, he consolidated power, ushering an era run by an "Administration Caucus" described as essentially a "one-party state" that became ripe for corruption and too eager to concede to the demands of corporations.
According to his campaign website, Fain has been a UAW member for more than 20 years, first joining as an electrician at a Chrysler plant. Fain told In These Times that three of his four grandparents were early UAW members.
The Detroit-based UAW has some 400,000 active members in various industries, including the Big Three automakers. It was founded in 1935 and has since expanded to other fields, including casinos, healthcare, and higher education, and is formally known as the International Union, United Automobile, Aerospace, and Agricultural Implement Workers of America.
Like many union workers across industries, Fain has called for an end to the practice of multi-tier workers, in which newer hires are paid less than legacy hires and receive fewer benefits even though they do the same work, often with no chance of moving up. He has also called for an end to production plant closures and job cuts, and the implementation of a 30-hour work week.
He says workers are struggling to make ends meet while the corporations rake in profits.
"Look at these companies — last year alone they made over $35 billion in profits. They've been flush with profits for over a decade," he told In These Times. "Our workers generate these profits. The bottom line is, our members have been left behind."
He also hopes to expand UAW membership by unionizing foreign-owned auto plants in the U.S. South, and says he will restore trust in the union by making all UAW leadership and staff take an ethics pledge and instituting a zero-tolerance policy on misbehavior.
The runoff election stemmed from a November election because neither Fain nor Curry won 50% of the vote. Another Members United-endorsed candidate who won a second runoff election is Daniel Vicente, a 33-year-old assembly line worker from Pottstown, Pennsylvania who is now the UAW's director for Region 9.
Since the other five Members United candidates won in November, the reform slate had been in a holding pattern until the two runoffs got resolved. But now the Members United candidates claim a majority on the UAW leadership board, and the UAW is poised to enter a new era.
In a draft transition document obtained by the Detroit Free Press, Fain detailed his plans to dramatically "shake up" the union. "There is a new sheriff in town, something different is happening," Fain wrote.
He added, "If we do this well, then heads are going to be spinning with how fast things are going to change … Some people will leave and we should make that as easy as possible for them."
Fain also pointed out that U.S. Senator Bernie Sanders has been holding large rallies with labor leaders like Sean O'Brien, president of the United Brotherhood of Teamsters, and Sara Nelson, president of the Association of Flight Attendants. Fain said the Sanders camp was interested in working together to hold rallies at auto plants.
"[We] are going to put an end to concessions and tiers, protect jobs, organize the South and make the Green New Deal a reality by unionizing the next generation of [electric vehicles]," Fain continued.
The leadership change at the UAW follows other pro-union developments. In Michigan, Gov. Gretchen Whitmer signed legislation repealing the state's so-called "right-to-work" laws, which weakened unions by not requiring union members to pay dues. In recent years, workers across the country at large employers like Amazon and Starbucks have moved to form unions.
Coming soon: Metro Times Daily newsletter. We'll send you a handful of interesting Detroit stories every morning. Subscribe now to not miss a thing.

Follow us: Google News | NewsBreak | Reddit | Instagram | Facebook | Twitter