Today, Sen. Debbie Stabenow (D-Mich) is all of us. After a Jan. 5 interview with Betsy Devos regarding her possible appointment of Secretary of Education under Trump, Stabenow said, "Nope."
A Freep article
reported that Stabenow said, "Our conversation reaffirmed my strong concerns about her nomination. Betsy DeVos and her family have a long record of pushing policies that I believe have seriously undermined public education in Michigan and failed our children. Therefore, I cannot support (her)."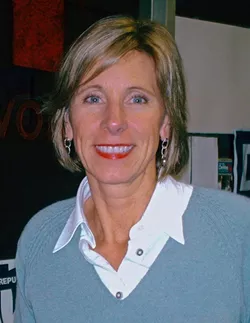 DeVos, who's married to former Amway Corp. chief Dick DeVos, has been behind a series of bills that have sought to give charter schools more taxpayer dollars, as well as to send taxpayer money allocated to education to parents via vouches which would allow them to select the school they deemed the best for their child. The whole thing is supposed to make schools more competitive, but a
yearlong investigation by the Detroit Free Press
has revealed less than stellar results.
You can read more about what a crappy job DeVos has done reforming Michigan's public school system
here
.
DeVos and her family have also donated millions to the
GOP through their Dick and Besty DeVos Foundation and their one of the largest contributors to the Michigan Republican party
.