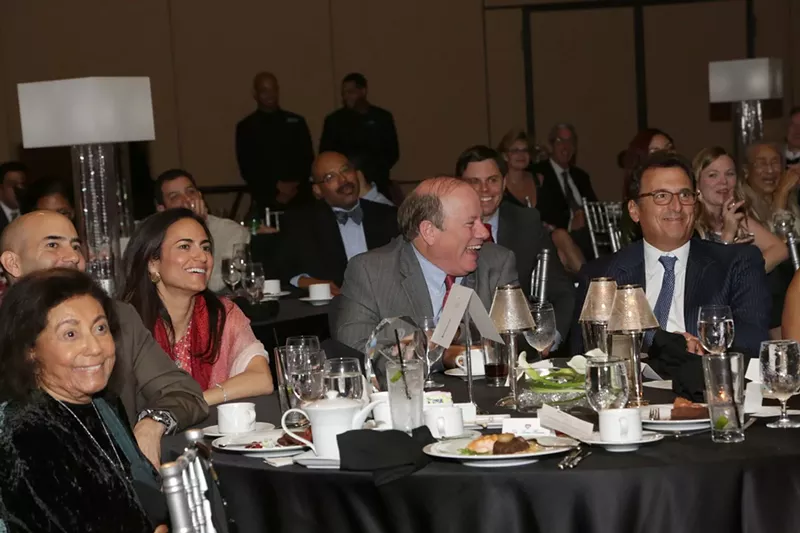 It looks like this could be the end of the good old-fashioned extramarital sex scandal exploited for political purposes. R.I.P. — it's been a good run!
Case in point: Detroit Mayor Mike Duggan is officially engaged to marry Dr. Sonia Hassan — the woman who runs Make Your Date, a prenatal health nonprofit that the city was accused of granting preferential treatment — according to a scoop from
The Michigan Chronicle
.
Duggan worked with Wayne State University, where Hassan works, to create Make Your Date, handpicking her as its leader. The city also provided more than $350,000 in grants to the program, with Duggan directing the city's chief development officer to raise money for it.
Duggan and Hassan's alleged extramarital relationship was the subject of speculation after Bob Carmack — a disgruntled businessman with an ax to grind over a property dispute with the city — hired a private eye to spy on the Mayor, even pulling publicity stunts like
renting a truck with oversized TV screens playing what he alleged was a video showing Duggan visiting his paramour
in the suburbs in 2018. But the local dailies were unable to substantiate the claims, leading to toothlessly awkward descriptions that
Duggan and Hassan were merely "linked."
The Mayor and his then-wife Mary Loretto Maher denied the allegations before
divorcing in 2019
, months later.
Carmack said that his mission was to discredit and humiliate Duggan.
"This is a video showing Mike Duggan going out … to meet a lady at night time when I put my private eyes following him on my federal lawsuit, to try to find out what kind of character he is," Carmack
told the Free Press
. "I'm broadcasting it because this is where they can see what kind of character that this man has. They say he's a clean-cut guy, that he's honest, and so forth. Here you see that he's going to meet a lady at 10 o'clock at night, staying there one hour then leaving."
The story never really seemed to stick, though, aside from showing the absurdity of Michigan's Freedom of Information Act laws. (The
Detroit Free Press
filed FOIA requests with WSU, and the university
dragged its feet for two years before magically producing the requested documents
in the 11th hour when told the publication of an article was imminent.) Duggan's then-chief of staff Alexis Wiley, a former journalist, was also accused of directing staff to delete emails related to Make Your Date.
In April,
Attorney General Dana Nessel cleared Duggan of criminal wrongdoing
, though she declared aspects of the ordeal "absolutely unethical" as far as transparency goes.
But as far as what two consenting adults do? It seems like people just don't care, especially considering that divorces are common. A scandal over an extramarital affair — like the text messages between Duggan's predecessor Kwame Kilpatrick and aide Christine Beatty, which led to criminal charges and Kilpatrick's resignation before being sent to federal prison — also seems quaint considering
more than 20 women have accused thrice-divorced ex-President Donald Trump of sexual misconduct
, including allegations of rape. We'll see what voters think in Detroit's upcoming mayoral election, though, where Duggan seeks a third term.
Duggan and Hassan are reportedly set to be married at a small family gathering this fall.
Stay connected with Detroit Metro Times. Subscribe to our newsletters, and follow us on Google News, Apple News, Twitter, Facebook, Instagram, or Reddit.