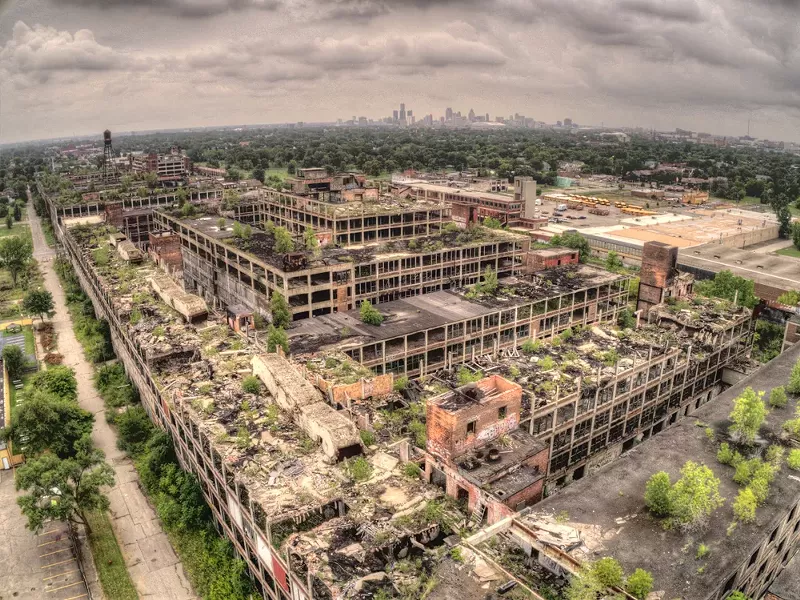 Owners of the historic Packard Plant owe upwards of $185,000 in unpaid taxes from 2016, according to the Wayne County Treasurer's Office.
The news comes just days after the bridge of the historic Packard Plant collapsed onto East Grand Boulevard, causing traffic to be redirected while the remnants of the bridge were removed from the road. If the taxes are not paid or put on a payment plan by March 31, the property will be subject to foreclosure.
The last time the property changed hands was also due to unpaid taxes. Arte Express CEO Fernando Palazuelo purchased the Packard Plant in 2013 for $405,000 at a Wayne County Tax Auction after it was previously foreclosed due to back taxes.
Arte Express's goal of renovating the dilapidated 40-acre plant into a mixed-use commercial, residential and cultural hub has fallen behind on schedule as well, with little progress to show for the last year and a half.
The initial timeline for redevelopment was 10 to 15 years broken into four phases. Phase I of the redevelopment process, which kicked off May 2017, was said to take 18-24 months and cost $16 million. The completion of Phase I was supposed to repurpose the old Packard administration building, 1580 E. Grand Boulevard, into commercial office space, a gallery and an events venue.
At the time, Kari Smith, director of development for Arte Express told the
Free Press
that the developers did not expect to make a profit for a number of years.
"Our main goal is the architectural renovation of these buildings and the benefits that this transition is going to have for the community."
Smith resigned from her post as director of development at Arte Express in July of 2018.
Joseph Kopietz, spokesman for Arte Express told the
Free Press
that the company plans on paying the delinquent taxes within the next month.
"We do intend to get these taken care of."
Mike Dionne is an editorial intern for Metro Times.
Stay on top of Detroit news and views. Sign up for our weekly issue newsletter delivered each Wednesday.