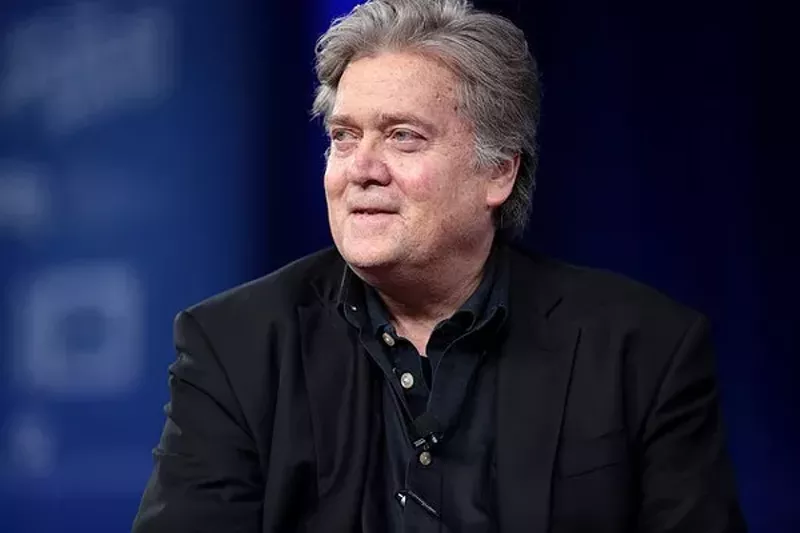 President Donald Trump's former chief strategist and current chairman of the alt-right
Breitbart News,
Steve Bannon, will visit metro Detroit to speak at a GOP fundraiser.
The fundraiser will take place, of course, in Macomb County at the Andiamo Celebrity Showroom in Warren on Wednesday, Nov. 8 — the one-year anniversary of Trump's defeat of Hillary Clinton.
Bannon (
who was depicted on SNL last season as the grim reaper
) ended up leaving his position at the White House in August due to clashes with other members of the administration. He has since returned to
Breitbart,
which routinely attacks members of the GOP who don't fully support Trump.
So it's a little bit odd that Bannon is speaking at this GOP event in Warren — especially a GOP event that is called "The Republican Unity Dinner."
Even Brandon Dillon, the chair of the Michigan Democratic Party, finds it ironic that Bannon is headlining an event like this.
"I'm struck by him coming into a unity dinner because he's declared war on the Republican establishment. It's hard to say who you should root for," Dillon tells the
Detroit Free Press
. "I hope he's going to read off a list of all the broken promises that he and Donald Trump made to people in Macomb County."
A
protest is planned
outside of the venue the night of the event, organized by the Metro-Detroit Political Action Network. They want protest signs to say things like "Nazis Go Home" and "No Bannon No KKK" since Bannon and
Breitbart
are
linked to white supremacist groups
and alt-right leaders like Richard Spencer.