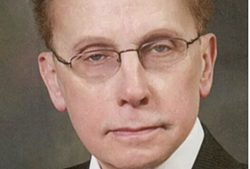 Another day, another audio recording of Warren Mayor Jim Fouts spouting disparaging comments. This time — and once again — regarding a disabled child.

On the latest recording, a 2015 snippet published by Motor City Muckraker, Fouts can be heard referring to the daughter of 2016 Republican presidential candidate, Rick Santorum as a "mongoloid baby" going on to describe her as having "her tongue hanging out the side and all kinds of shit."

This recording follows a long list of incredibly offensive comments made by the 76-year-old mayor who is seeking reelection for what would be his fourth term this year. In the past, he has said that people with disabilities "aren't even human beings." (A comment that cost Fouts his 910AM radio show in 2016.)

Just last week, Muckraker released a recording in which Fouts can be heard bragging about how easy it is to pay for a prostitute in Amsterdam: "You could get a 16-year-old girl if you wanted to."

"I am not interested in them, the Warren residents are tired of them and I'm tired of them," Fouts told WJBK-TV last week when asked about his Amsterdam comments. He goes on to say that he's "bored with it."

Fouts has denied the authenticity of the audio clips and claims they are being used as a political distraction.

In the past, Fouts has been recorded casually using homophobic slurs, the n-word, and has compared black people to "chimpanzees" and has called older women "hateful dried-up cunts."


Stay on top of Detroit news and views. Sign up for our weekly issue newsletter delivered each Wednesday.