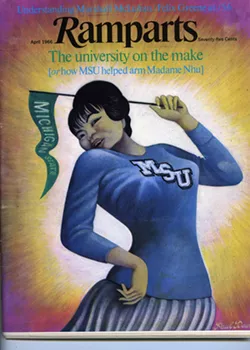 Spartans fans disappointed by a string of recent missteps might find solace in knowing that scandal is nothing new for Michigan State University.
Indeed, long before MSU's myriad recent headlines — the still-unfolding Larry Nassar sex abuse case, the campus' hosting of a neo-Nazi (and the
subsequent clash
between neo-Nazis and protesters), and
failing to discipline an outspoken racist
— the school was under fire for another scandal: helping start the Vietnam War.
That episode in MSU's history gets a fresh look in
Politico
this week, which features a long-form article by Eric Scigliano, whose father, Robert, served as part of the Michigan State University Advisory Group from 1957 to 1959.
The group started with a friendship between the then-exiled Ngô Đình Diệm, who would later become South Vietnam's president, and MSU associate professor of political science Wesley Fishel. Following the French surrender of Vietnam, Diệm enlisted Fishel as an adviser. Enter the MSUAG.
As
Politico
notes, MSU's involvement overseas was nothing novel: by the mid-1950s, the U.S. was sponsoring 42 university aid missions around the world. But the extent of MSU's presence in Vietnam was unprecedented, aided by the school's law enforcement and public administration curriculums — which enabled the school to bring in federally funded police equipment, including weapons. The MSU group also provided a CIA-funded counterintelligence program that trained the Vietnamese Bureau of Investigation.
The school declined renewing its contract with Vietnam in 1959, which was just as well: it avoided getting involved as the conflict escalated. By 1963, Diệm would be assassinated in a coup.
Despite the school's efforts to prevent its professors involved from speaking unfavorably about the Diệm regime, some went public withcrticism. The school's role in conflict became widely known in an April, 1966 exposé in
Ramparts magazine
, which featured Diệm's sister-in-law Madame Nhu depicted as an MSU cheerleader on the cover:
The main article recounted, in tones by turns gossipy and denunciatory, how an overambitious university had sold its soul, become a shameless CIA front, and helped launch a ruthless dictatorship and wasteful war by miring itself in a self-serving "Vietnam Adventure," complete with the servants, spacious villas, free-flowing booze and other perks of the neocolonial elite.
As
Politico
notes, MSU's "Vietnam Adventure" is still not widely known today (it was not mentioned at all in Ken Burns' recent 18-hour documentary series
The Vietnam War
). But the university has since
digitized more than 80,000 documents
from from the project, posting them online for public consumption. It has also published
Forging a Fateful Alliance
, a complete history of the MSUAG.
"Any academic or intellectual tempted to enlist in future U.S. efforts to remake other nations would do well to consult both," Scigliano writes.
You can read the full
Politico
story
here
.
Stay on top of Detroit news and views. Sign up for our weekly issue newsletter delivered each Wednesday.