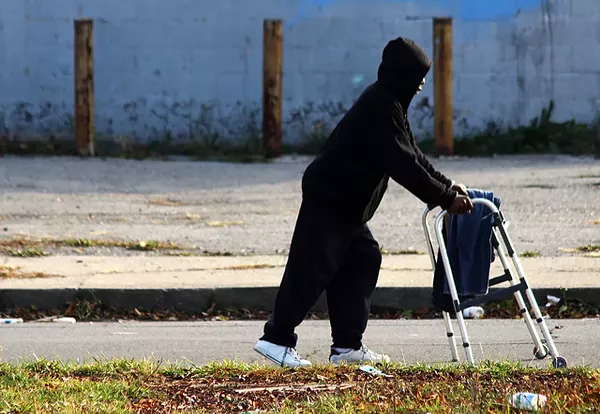 As we reported
earlier this week
, a Republican-sponsored bill that would require many Michiganders receiving Medicaid to work 29 hours a week to keep their benefits includes a seemingly discriminatory provision. People who live in counties with unemployment rates of 8.5 percent or more are exempt from the work rules, but people in high-unemployment cities like Detroit and Flint are not. The counties that would be exempt are overwhelmingly white. The cities are predominantly black.
Now, thanks to a data analysis by the
Washington Post
,
there's evidence that the exemption would benefit white people almost exclusively.
Under the bill, work-related requirements would apply to about 700,000 people — most of them being enrollees of Healthy Michigan, the Medicaid expansion program created for certain people under 64 under Obamacare. According to the
Post,
23 percent of those people are African-American and 57 percent are white. And yet, the
Post
found that African-Americans make up just 1 percent of the total pool of people who would qualify for the underemployment exemption. By contrast, 85 percent of people who would qualify are white.
The issue lies in the fact that Detroit and Flint are surrounded by better off suburbs that help drive down the unemployment rate in their respective counties. Both cities have an unemployment rate above 8.5 percent, but the counties of Wayne and Genesee have unemployment rates below 6 percent. Other mostly black cities with high unemployment that miss out on the exemption are Saginaw and Highland Park, according to a report by
Bridge magazine
. Muskegon and Mount Morris Township also have high unemployment rates and sizable black populations.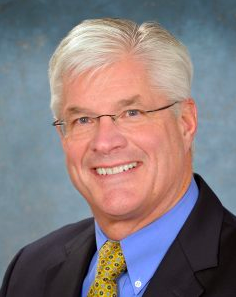 We reached out to each of the 11 Republican senators behind the legislation this week in an effort to learn whether the provision was intentionally designed to discriminate against black people. Most did not return our calls or emails. The offices of Sen. Patrick Colbeck and bill sponsor Sen. Mike Shirkey said the lawmakers would not be available by our deadline.
Shirkey appears to have discussed the provision with media only once, telling the
Detroit News,
"I mean, is it too much of an expectation to look for jobs if you happen to live in Flint, to look for a job in Genesee County? And the same argument applies to Detroit and Wayne County. How granular do you want to get?"
Shirkey represents the Jackson area, so perhaps he's unaware that Detroiters pay some of the highest car insurance rates in the country and, as a result, often don't have cars they can legally drive to get to work. Or maybe he thinks Wayne County has a robust transit system on which those non-driving people can rely (it doesn't).
Maybe Shirkey also doesn't know that Detroit is the most populous city in the state, with more than 670,000 people living in its 140 square miles. By contrast, there are reportedly just
300,000 people
living across all of the counties that would be exempt under the bill. Arenac County, specifically, has a population of just 15,000. How granular does the senator want to get?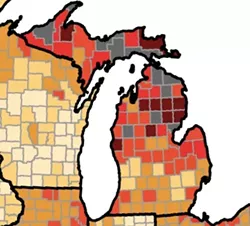 We sure would like to hear more from Shirkey on why he crafted this proposal to help counties rather than cities. As the
Washington Post
pointed out, other assistance programs that come with work rules can provide exemptions for a variety of areas with high unemployment. The Supplemental Nutrition Assistance Program, or SNAP, reportedly allows states to apply for waivers for high-unemployment counties, cities, or Indian reservations.
A Michigan House Democrat who's a proponent of Medicaid and universal health care this week described what he sees as the real rationale behind the exemption.
"They have this belief that there's this massive group of people that are abusing the system," Rep. Yousef Rabhi (D-Ann Arbor) told
Metro Times
. "Quite frankly, I think if we're going to break it down a little bit, I think much of that belief that's held by folks is based on racism."
"And that racist aspect is so clearly reflected in this proposal. Like — it's OK that I have Medicaid as a rural, white person, but it's not OK that people in Detroit have Medicaid, or that people in Flint have Medicaid, because 'they're lazy,' because 'they just abuse the system.'"
The work rules bill has passed the Senate and is in committee in the House.
Gov. Rick Snyder has indicated he's open to instating work-related requirements for Medicaid recipients. His office said Tuesday that he's working with Shirkey on language and would not approve the legislation in its current form. Snyder's office would not comment specifically on the exemption for counties with high unemployment.
Stay on top of Detroit news and views. Sign up for our weekly issue
newsletter
delivered each Wednesday.