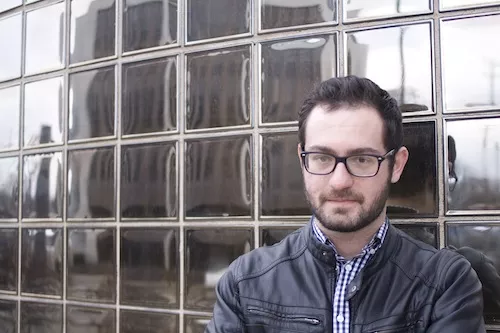 Leyland "Lee" DeVito
is the new editor of
Metro Times
. DeVito returns to the award-winning alt-weekly after a nine-month stint as an associate editor at monthly glossy
Hour Detroit
magazine. He previously worked at
Metro Times
from 2013 to 2016 as a staff writer, and has freelanced for the paper since 2008.
Along with DeVito's hire,
Metro Times
' parent company, Euclid Media Group, plans to increase its coverage of food and the arts, as well as renew its commitment to hard-hitting investigative journalism. The paper recently promoted associate editor Alysa Offman to full-time, will be hiring a new staff writer in the next month.
Said Chris Keating, publisher, "We are thrilled to bringing on Lee DeVito, who not only gets the city but gets the important journalistic legacy of
Metro Times
. We are confident he's the right person to lead the paper into a new era."
"I'm very excited to be back," says DeVito, 30. "I grew up reading
Metro Times
. I love the brand, and I love the team here. I look forward to the opportunity to tell daring long-form stories, and inform readers about what's happening in Detroit each week.
"Now, more than ever, Michigan needs good alternative media. Emergency management has destroyed Detroit's public schools. Flint still doesn't have clean water. We just elected a president who has declared a war on truth."
DeVito's work at
Metro Times
earned awards from the
Society of Professional Journalists
: first place for a personality profile for his
story on Charlie LeDuff
and an honorable mention for his investigative reporting on
Enbridge's controversial Straits oil pipeline
. DeVito's writing has also appeared in
VICE
,
In These Times
, and Chicago's
New City
, among others. In addition, he is an illustrator and designer, and has occasionally supplied artwork for
Metro Times
.
Euclid Media Group's multimedia portfolio includes the
Cleveland Scene
,
Detroit Metro Times
,
Orlando Weekly
,
San Antonio Current
and
OutInSA
. EMG orchestrated a merger of
Metro Times
and former alt-weekly,
Real Detroit
, in 2014.