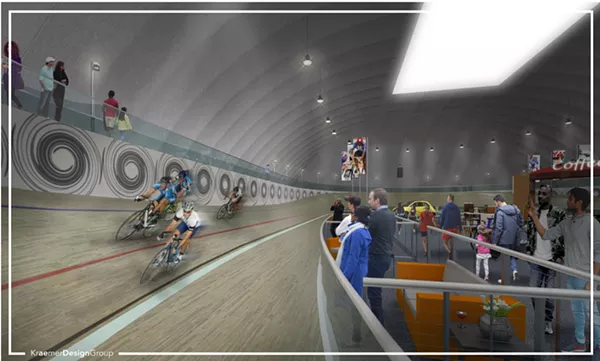 If you travel down I-75 in the Midtown area, you've probably spotted a huge, white tent-like structure set up near the DMC.

It's the Lexus Velodrome — a project that has a lot of competitive cyclists pretty excited. The 64,000-square-foot track cycling arena may well be the most impressive thing happening within the U.S. competitive cycling community — it cost $4 million to build after all.

The velodrome is a Detroit Fitness Foundation project, and was designed by the organization's executive director, Dale Hughes. It's opening on Friday, when competitive cyclists are set to converge upon the
state-of-the-art indoor complex. Doors to the grand opening event open at 6 p.m. The arena will be unveiled at 7:20 p.m. and the first race will begin at 7:30 p.m.

After its official opening, the venue will host a variety of indoor sports, including track cycling, a racing sport that features brakeless bikes speeding along a steep wooden oval track at speeds close to 50 miles per hour.
Particularly popular in western European countries like Belgium, France, Germany, and the United Kingdom, track cycling is a featured sport in the Olympics.
Located on 601 Mack Ave., the Lexus Velodrome will join the International Velodrome at Bloomer Park in Rochester Hills as the only two such venues in Michigan.
Jack Nissen is an editorial intern for Metro Times and a masters candidate of environmental journalism at Michigan State University.