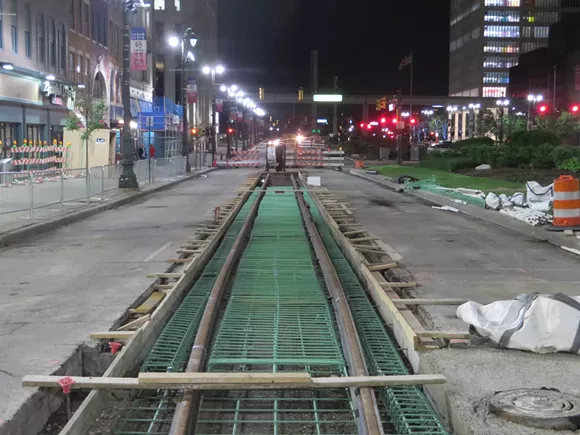 Last week,
Deadline Detroit
posted a brief item
concerning the anticipated fare and hours for the under-construction M-1 Rail project, slated to open to the public in 2017.
While none of it was really news — the figures mentioned haven't changed
since construction began in 2014
— there was a
palpable outcry
among
Deadline
readers regarding the rail's 10 p.m. shutdown time. The gist: M-1 services a 3.3-mile stretch of Woodward Avenue that is the heart of Detroit's nightlife. What's the point of riding it if you can't use it to get home after closing time at the bar?
We called Dan Lijana, M-1's communications officer, to ask about the limited hours.
"I wouldn't call 18-hour service limited," Lijana says. "That's definitely not a term I would use at all for that."
OK, fine. But how did organizers come up with the 10 p.m. shutdown time — an hour that is just the beginning for some people's nights out?
"The service hours are a reflection of demand and service need, and the development of the business model," Lijana says, indicating that the service is expected to be extended for sporting events. Lijana also says it is typical for new public transportation projects to start with limited hours, and additional hours could be added later if the demand is there.
Alright, alright. But still — who is this imaginary customer for the M-1 who goes home at 10 p.m. on a weekend?
"There are many folks that we expect to be riding — everyone from people who live in the neighborhood commuting either to jobs, to the medical institutions, to entertainment downtown, to people living in those neighborhoods commuting for work," Lijana says. He also anticipates many visitors will use the rail as well.
Lijana emphasizes that M-1 is meant to augment Detroit's existing transportation options, such as the Amtrak station and the People Mover. "The whole model of M-1 Rail is based on a level of connectivity, multi-modal transportation," he says. "Also, I should say too we're going to have bike racks on the streetcar as well. So we would anticipate that there would be usage there as well. So you've got cyclists, you've got Amtrak, you've got the crosstown buses, you've even got SMART as well."
OK, OK. But again — many of the businesses in Midtown and downtown are nightlife-oriented. Nobody thought to make a system that serves that sector?
"We have a very active business support and outreach program at M-1 and we haven't heard that concern at all," Lijana says. "The first group raising that concern appears to be the media."
Well, maybe that's because all writers wish they could drink like Hemingway. But between M-1's early shutdown time, its limited scope, and its reliance on Detroit's
infamously shoddy existing public transit system
, we can't help but feel like M-1 is going to be a streetcar to nowhere.