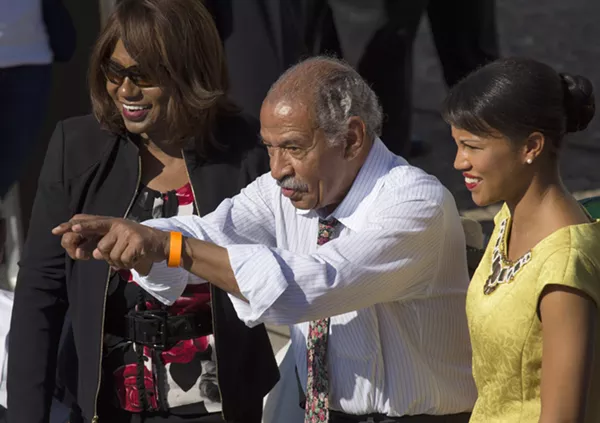 It's 2017, and we've finally arrived at the conclusion that there are sexual predators among us — quite a few of them, at that. This realization has led to the discovery of several other sad truths: For instance, it appears that, when profits are on the line, heavyweight pervs tend to lose their jobs (think Harvey Weinstein, Louis CK, Matt Lauer, Charlie Rose), but when the public trust is at stake, men in power get to stay employed.
Enter Sen. Al Franken and Rep. John Conyers (we'll set the
president of the United States
aside for now).
Zoom in on those cases, and you might spot another double standard: A white admitted sexual harasser representing Minnesota has not been asked by party leaders to step down, while a black, civil rights hero who represents Detroit and has
denied any predatory behavior
, has.
Yesterday, shortly after House Minority Leader Nancy Pelosi called on Conyers to
resign
, his lawyer seemed to suggest that race had something to do with Democrats' willingness to make that call for one lawmaker, but not the other.
"What is the discernible difference between Al Franken and John Conyers?" attorney Arnold Reed asked at a news conference.
That morning, a Conyers accuser had visited NBC's
Today
show to describe the Congressman as having
"violated" her body
. Also Thursday, a fifth and sixth woman
came forward to accuse Franken
of unwanted sexual advances. One of them was a war veteran who said Franken had grabbed her breast while she was serving in Iraq in 2003.
Reed noted in his news conference that there are three or four allegations of lewd behavior against Conyers.
"At the end of the day, I would suspect that Nancy Pelosi is going to have to explain what is the discernible difference between Al Franken and John Conyers," he said. "That is a question she is going to have to answer."
According to
Politico
, members of the
Congressional Black Caucus
, which Conyers co-founded, have been asking themselves the same thing. The publication says some CBC members have been concerned about a double standard, saying questions about racial undertones are impossible to avoid.
"I think the chorus of people that are calling for John to resign is noticeably larger than everyone else," CBC Chairman Cedric Richmond, a Representative from Louisiana, told
Politico
.
While the CBC has not asked for Conyers' resignation, one member of the caucus, Rep. Jim Clyburn, who's also the highest-ranking African American lawmaker in the country, did so yesterday.
Some House Democrats, meanwhile, have said they think Franken should step down too, but no Senate Democrats have called for his resignation.
However, race is not the only "discernible difference" in the cases of each lawmaker. None of Franken's accusers worked for him, for example, while Conyers is said to have demanded sex from staffers, punishing those who did not oblige. Conyers also paid $27,000 from his taxpayer-funded office budget to settle one such complaint.
The House ethics committee launched a probe into Conyers' behavior shortly after a
Buzzfeed
report brought the harassment and taxpayer dollar misuse allegations to light last week. The Senate's ethics committee opened an investigation into Franken yesterday.
Conyers has said he does not plan to resign, but has only spoken through his lawyer since landing in the hospital with stress-related symptoms yesterday. That was before the House's top Democrat and Washington's top African American lawmaker asked for him to step down.