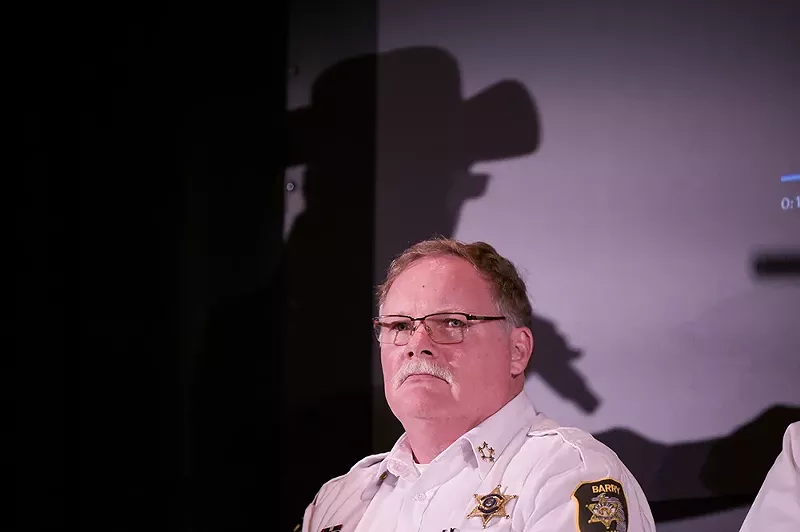 In recent elections, Michigan's balance of power has shifted from reactionary, conservative, and right wing to progressive, liberal, and left wing.
Gun-safety legislation in Lansing shows how the clout in the Great Lakes State has moved in a positive direction from Republican red to Democratic blue.
But sometimes, a few steps forward are followed by a couple steps backward. That unfortunate dance of democracy is on display in several Michigan counties, where backlash from elected officials exudes a whiff of defiance and anarchy.
The most recent episode came last week northwest of metro Detroit when the Livingston County Sheriff and Board of Commissioners vowed to ignore "red-flag laws" that would enable police to confiscate guns from persons found by a court to be of high risk.
That means a nut boy with a gun toy can cling to his hand-held murder machine even if people around him tell a judge that he (or she, or they) is dangerous. Think of Ethan Crumbley, who murdered four fellow students 17 months ago at Oxford High School in Oakland County.
Despite that recent, nearby example, sheriff Michael Murphy of neighboring Livingston County said gun confiscation in his domain would be unconstitutional due to the Second Amendment's "right" to bear arms.
"I'm a constitutional sheriff," Murphy told The Livingston Daily. "And I'm not going to do anything that is going to jeopardize that and, if, God forbid, the red flag laws do pass, we won't be enforcing those or investigating those, either."
In response, Attorney General Dana Nessel's office said, in part: "Sheriffs may choose not to enforce these laws, but the very real consequence of that is that people may die unnecessarily from preventable gun deaths."
Guns are just one issue for the mood of defiance from some people in local power.
On the other side of the state, The Washington Post earlier this month reported how Ottawa County in southwest Michigan elected a slate of radical Republicans to the Board of Commissioners last November.
They are determined to "thwart tyranny" and to oppose "the divisive Marxist ideology of the race equity movement." So they have purged long-term employees and replaced them with people who are closer in belief to their fundamentalist, Christian nationalism.
"To run the health department," the Post reported, "they voted to install a service manager from a local HVAC company who had gained prominence as a critic of mask mandates" and was a proponent of discredited cures for COVID-19.
The board is chaired by Joe Moss, a 37-year-old evangelical and political novice who led a slate called "Ottawa Impact." His movement was inspired by opposition to health mandates issued by Governor Gretchen Whitmer during the pandemic.
Moss often carries a pistol on his hip, the Post reported. His board recently changed the county motto from "Where You Belong" to "Where Freedom Rings."
The larger backdrop to all this is "constitutional sheriffs" movement, epitomized by Barry County Sheriff Dar Leaf.
Ruling another county in southwestern Michigan — not that far from Ottawa — Leaf recognizes no Earth-bound authority greater than himself. He tried, unsuccessfully, to find fraud in the 2020 election that ousted former President Donald Trump from the White House.
In a lengthy profile last summer, Reuters sketched Leaf's posture.
"Leaf is in the vanguard of the so-called 'constitutional sheriffs' movement, which asserts that sheriffs, typically elected in counties, possess supreme law-enforcement power in their jurisdictions — exceeding that of state police, federal agencies and any other official, including the U.S. President," Reuters reported.
The most prominent group in the movement, the Constitutional Sheriffs and Peace Officers Association, "takes the extreme position that sheriffs can and should ignore any law they deem unconstitutional," Reuters reported.
In some respects, the public posture of Murphy, Leaf, and officials from other counties amounts to secession on a miniature scale. They act as if their jurisdictions are little kingdoms, or duchies.
If they can pick and choose which laws to disobey, do they also have veto power over any part of the Constitution they oppose? Can they raise militias and declare war on other counties? We all know how Michigan loves its militias.
Leaf sure does. Three years ago, he appeared on stage in Grand Rapids at a "Michigan Patriots Rally" with the "Michigan Liberty Militia" to protest Whitmer's Covid restrictions. He said pandemic limitations meant Michiganders were being arrested by the governor.
"What's the definition of an arrest?" Leaf asked the crowd. "It's basically taking away your free will, your right to move about."
He stood alongside big guys who wore big beards and brandished big guns. A couple of these "patriots" were later implicated in the plot to kidnap and murder Whitmer.
Leaf, of course, said he knew nothing about such a scheme and did not approve of it. Presumably, Leaf would enforce laws against kidnapping and murder. But, at least at first, he wasn't so sure the plotters really planned to murder Whitmer or merely make a "citizens' arrest" of the governor.
And he supported "citizen" militias with the notion that their weapons protect them from the government.
"We don't just have a right to protect ourselves from our government," Leaf told a local radio station, WWMT. "We also have a duty to do it. Militias, what they're doing, is legal. It depends on how far they go."
Might some of this armed paranoia be a display of toxic masculinity toward elected officials like Whitmer, Nessel, and Secretary of State Jocelyn Benson? All are female Democrats. Or maybe this sexist coincidence is but one foul ingredient in a larger waste dump of culture-war poison.
Remember that people like Leaf, Murphy, and Moss make life-and-death decisions in counties like Livingston, Barry, and Ottawa. Think "good guys with guns." Their citizens remain subject to their wills, wishes, and whims to either enforce or ignore the new laws about guns.
Coming soon: Metro Times Daily newsletter. We'll send you a handful of interesting Detroit stories every morning. Subscribe now to not miss a thing.

Follow us: Google News | NewsBreak | Reddit | Instagram | Facebook | Twitter