While Ross and the administrators at U Prep may have been able to get away with intimidation tactics to scare teachers out of unionizing, the same could not be said at UYA — at least not in the beginning. Following the suspension of Kissel and Chen, Michigan ACTS, the charter-organizing arm of AFT Michigan, filed its first batch of unfair labor practice claims with the National Labor Relations Board.
On March 31, Redwine sent an email to the staff with the board settlement. In the statement NUL had to promise to adhere to several guidelines including, but not limited to, not giving the impression that they were watching union activities, not asking staff to identify work problems, and suggesting they could solve them in order to weaken interest in unionizing, and not equating union support with misconduct or harassment.
With some of the common anti-unionization tactics off the table, Redwine and NUL shifted approaches. On April 13, a week after NUL and Michigan ACTS reached an agreement to hold union elections in May, NUL announced it was leaving UYA. "We believe that a larger charter management organization with more resources and fresh ideas would better enable UYA to meet its 90-90-90 goals — game changing goals we believe are attainable," the letter forwarded to the staff by Redwine and signed by the NUL board members, which included Ross, said.
NUL's decision to leave UYA threw an interesting wrench into the unionization plan. While charter school teachers work for a school, the school and board is not their employer, but rather they are employed by the management company. With NUL leaving, so too was the employer that the staff hoped to collective bargain with. Not only would NUL's resignation essentially invalidate the union drive, but it would mean more instability for staffers. When a charter school management company leaves the entire staff is terminated at the end of the year and must reapply for a job with the new management company. The very things the staff was fighting for — a voice and stability — were being threatened.
In the days leading up to the vote Redwine shut down attempts by the staff and ACTS to find solutions to this issue. When ACTS recommended creating a teacher transition team that could help select the new management company, Redwine wrote the staff saying that while she expected listening tours and conversations with the staff, ultimately the new management company would "not be determined by New Urban Learning or NUL employees."
Less than a week before the May 6 election, Redwine sent out another email trying to dissuade staff members from voting in favor of a union. This time, she reiterated the fact that since she and NUL were leaving, any election in favor of a union would be fruitless. "The NLRB election does not involve UYA. The union is seeking to represent certain employees of New Urban Learning, which will cease to be the designated management operator of UYA in a few months." This email was followed by one last attempt by Redwine to steer the staff away from a vote to unionize. "I am sure that you would appreciate knowing all the facts, because union dues, initiation fees, or other costs you might be asked to pay with go to Michigan ACTS, and not the teachers. Team, ask questions and please sure to get the facts before you cast your vote on Wednesday May 6th. Have a wonderful week!" wrote Redwine.
On May 6, despite all the pushback from NUL and the UYA board, the staff voted in favor of a union.
"We won with a supermajority," Kissel, who now teaches at a KIPP school in Texas, says with a mix of pride and frustration. "We won. We had a union and were going to start to bargain, but we couldn't bargain with NUL because they were leaving."
Despite the final vote being 27-18, the staff just had to wait. UYA's board had pushed back its deadline for RFP submissions and the new management company was still unknown.
Some teachers, like Harris and Kissel, were sick of the school after all the tumult and were looking for other places to work, while others didn't like sitting with the uncertainty. One big point of organizing was stability — teachers could know they had a job and could really invest time and energy into the school — with NUL leaving there was no certainty of who would be hired by the new management company, or even who that management company would be.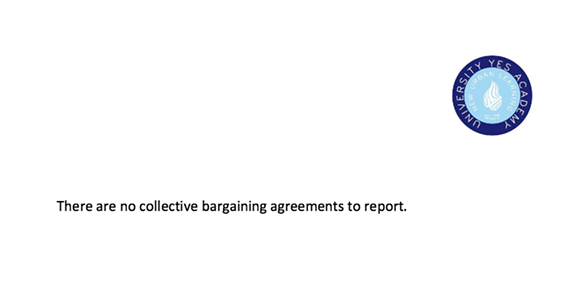 ---
On June 12, a little over a month after the staff voted to unionize, Redwine registered a nonprofit, InspirED Education, with the state of Michigan. She submitted an RFP to run the school more than a week earlier.
"I couldn't believe it!" says Dawn Wilson-Clark a former UYA parent, who took her daughter Dana out of the school at the end of last year. "I was on a field trip in Lansing with Brooke [Harris] and the kids when we heard the news. Unbelievable." Wilson-Clark, who vacillates between frustration and incredulity over the "shenanigans" Redwine and the NUL team pulled, had become an advocate for the teachers over the course of the year and made it her duty to attend board meetings to hold the management company and board accountable.
Despite knowing her daughter would not be returning to the school, Wilson-Clark and her husband Jonathan showed up for the July 21 board meeting when the UYA board voted to contract Redwine's new company— which was not around during the union elections and therefore had no requirement to bargain — to run the school. According to board meeting minutes, Damali Sahu, one of the board members, explained why InspirED Education was a better choice than some of the other management companies that submitted RFPs, saying, "the committee recommended that InspirED Education met the criteria for selection based on student achievement, financial reporting, and reputation."
InspirED Education had existed for just over a month at that point — it had never run a school.
But UYA had every reason to conflate the company with NUL, which is what it was clearly doing. Not only was Redwine once again at the helm but of the three people on the management team right below her, two had worked for NUL, including the former NUL chief financial officer.
Wilson-Clark pointed to the consistencies between the two management companies, asking the board why they would go with Redwine's new, similarly sized company if the whole reason they were looking for a new charter management organization was because NUL didn't have the capacity to manage the school. She was told, by a UYA administrator, that it was not the board who felt that the school needed a bigger management company but rather NUL who had said the school needed this when they resigned. What was not addressed was why Redwine, who ran NUL, had suddenly changed her mind about what was best for the school. If the school needed a management company with "fresh ideas" how could a new management company run by the same team be the solution?
Today, despite the fact that Redwine is still running UYA — she hired her husband Eric as the new head of school — and the UYA board has not changed, the union vote remains invalid. When Michigan ACTS and the AFT reached out to Redwine about recognizing the union and bargaining she wrote back that she, and InspirED, did not have to because: "InspirED Education is a newly formed nonprofit charter management organization unrelated to New Urban Learning," and "Out of 68 employees ... only 17 were employed by New Urban Learning." According to the NLRB a new employer must recognize a union if over half the staff is the same. Whether only 17 are back by design, or because staffers were too turned off from the chaotic 2014-15 school year, is up for debate.
Last week, ACTS filed another round of unfair labor practice charges, this time zeroing in on the current trickery that seems to have occurred with the management companies. It is their belief that InspirED Education — which has much of the same management team as NUL and is headquartered in the same physical offices — is an alter ego of NUL and therefore has an obligation to bargain. The union also maintains that the management company and school should be viewed as joint employers, and therefore UYA, who has been a constant, has a responsibility, as well, to bargain. If the NLRB rules in favor of the latter argument — which is based on a summer decision that McDonald's and its franchisees are joint employers — it would be a game changer nationally for charter school dynamics.
---
On Sept. 23, less than a month into the school year UYA was in the news. Nothing union related. Purely educational. An 11th-grader at UYA snapped a picture of her commute to school featuring what she says is a daily occurrence: Six children crammed onto a 39-inch seat.
"I took it because it was unsafe," Aleka Simmons, one of Harris's former students, told WXYZ.
While parents and kids like Simmons were up in arms about the dangerous commute, when Redwine's husband Eric, the new head of school, was asked to comment, he told the station that he didn't view the picture as a bad thing — in fact, he said he was happy to have so many kids enrolled in the school.
"It's a quintessential example of charter schools and private management companies putting profit before students," Harris wrote MT, blaming her delayed response on pumpkin spice latte season. "I am so proud of my former, very shy student of two years for her activism in making her school safer for everyone. She's the perfect example of why I went into teaching, and the squashing of that spirit on an institutional level is exactly why I left."