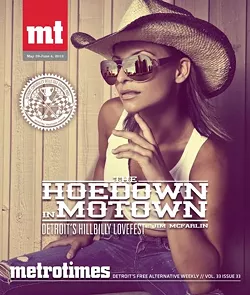 Amanda Temple is the beguiling lead singer for Annabelle Road, a rising young country music quartet from Detroit. Now, that sentence might not seem the least bit unusual to you or me, but when the band proclaims its hometown beyond the Michigan state line, especially below the Mason-Dixon Line, the reaction they get from country snobs is startling.
"People are always surprised when they find out we're from Detroit, like 'How did that happen?'" Temple says. "When we go down South, I feel like we have a harder time getting people to take us seriously before we play. But once they've heard us, and they see that we've got the same heart and the same music in us as they do, it all kind of falls in place."
Well, that's just artistic prejudice. When the roll call of America's country music hotbeds is recited — Nashville, Austin, Memphis, Dallas — the Motor City almost never makes the cut. But it should. "I've been a one-man army flying the flag on that one," declares Tim Roberts, the operations manager and award-winning program director for Detroit's country WYCD-FM (99.5) and prime mover behind the 99.5 WYCD Downtown Hoedown, the iconic three-day music festival celebrating its 31st year Friday through Sunday at Comerica Park.
"Honestly, one of my goals was to make Nashville aware of what a great country town this was," Roberts says. "The Hoedown had been going on for years, and I don't know how but it was very much under the radar. But I think that as the station got more recognition nationally, people are starting to get it, finally. I think we raised the level of awareness about it. Now the artists are aware of it. Most of them have played it, and the new artists want to play it. So I don't have to do as much of a sell job anymore. It used to be artists would say, 'What is it again?'"
What it is, or used to be, is the largest free outdoor country music event in the world. That "free" part went the way of the singing cowboy last summer, when the Hoedown marked its milestone 30th anniversary with a pair of radical changes: moving to a pay ticket format and shifting locations from Hart Plaza to the home of the Tigers. While it's fairly safe to suggest people don't like paying for something they've gotten free for decades, at $30 for a three-day pass (sold out within hours) and $20 per day for continuous music on three stages, it's still a steal of a deal as music festivals go. (A portion of the ticket proceeds will benefit the charity Defeat the Label, which promotes a bully-free society.)
The change of venue, Roberts says, was necessitated by number of factors, including the dangerous environment on the riverfront — not disorderly fans, although Roberts notes that some audience members in recent years didn't appear to be on hand to enjoy the music and the admission price appeared to reduce that element last summer – but the plaza itself.
"We did a huge survey, and a lot of people felt like it was getting unsafe," says Roberts, "partially because the pavement is in a state of disrepair at Hart Plaza. We wanted to make sure our fans were safe in every way. We just outgrew that space, and people were unhappy that it was too crowded, you couldn't move, there weren't enough bathrooms. That was one of the biggest [complaints]. I don't know how many Porta Johns we had there, but it was the most I'd ever seen. And it still wasn't enough! So the fact we can use the bathrooms at Comerica was a huge deal."
Let the national nabobs of negativism pimp slap Detroit if they wish. Lord knows we give them enough ammunition. But those of us who live here know how extremely blessed we are to have an international jazz festival that garners worldwide acclaim, a massive annual techno music festival in the city that invented the genre, and this remarkable Hoedown that has played host to some of the greatest names in country. Detroit rocks the summertime like very few places on earth.
Johnny Cash played the Hoedown. So has Willie Nelson. And Hank Williams Jr., George Jones, Big & Rich, Toby Keith, Reba McEntire, Zac Brown, Jason Aldean, Lady Antebellum and Kid Rock, to name a very few. "Rascal Flatts to this day gives me crap because I had them play the third stage [usually reserved for local acts]," Roberts says, smiling. And I told them, 'Hey, Garth Brooks played the third stage, so you're not alone.' And he did. This was the first show Garth played after he got a record deal, in 1989."
This weekend's lineup features country heartthrobs Jake Owen and Joe Nichols, rising new artists Drake White, Joel Crouse and Casey James, and Detroit favorite son Uncle Kracker. Noticeable changes this year include a greater number of acts on the bill, a revised layout of the festival stages on the Comerica grounds, tighter timing between performances alternating on the two main stages and a better division of the major artists "so the whole festival doesn't just pick up and go over to stage one," Roberts says.
That Detroit should be fertile ground for this music is not as inconceivable as some country cynics contend. Henry Ford's legendary $5-a-day guarantee in the early 20th century sparked a migration of laborers from around the nation, most notably the South, to work on his assembly lines, and they brought their musical instruments and favorite songs with them. Their children's children's children still populate this area, and the music is their heritage.
Josh Gracin, the Westland native and American Idol finalist, has a No. 1 country single to his credit ("Nothin' to Lose") and has played the Hoedown five times. Rochester-raised Jana Kramer parlayed her TV role on One Tree Hill into a series of Top 10 country hits. Mountainous, raspy-voiced Ty Stone was signed to Atlantic Records. Detroiters Billy Craig and David Shelby are recording new music in Nashville; Annabelle Road and 17-year-old Paulina Jayne have performed showcase concerts there. Teen singer-songwriter Molly Hunt made the leap from Detroit to Nashville in 2010 after becoming the youngest person in that city's history to sign a major publishing deal, and statuesque Canton-born country vocalist Justine Blazer has followed suit.
Take that, Music City.
"You couldn't get a country band arrested out of here when I started in country radio in Detroit," Roberts remarks. "I was always thinking to myself, 'Wouldn't it be great if there was just one country band that got signed out of here?' So now there's at least a respectability, that Nashville's aware that good musicians could come out of this city, whether they get signed or not. We're starting to be known as a community that can put out national quality entertainment."
So here is what we know: Successful country music singers, songwriters and instrumentalists are emerging from Metro Detroit in ever-increasing numbers. Of all the country radio stations in all the cities in all the country, WYCD is the ACM (Academy of Country Music) Major Market Radio Station of the Year for 2013, and won the prestigious Marconi Award from the National Association of Broadcasters as Country Station of the Year in 2012. Radio Ink magazine, the premier publication for broadcast management, named Roberts the best country program director in America. Two years in a row. WYCD morning host Don Carpenter, better known as "Dr. Don" from the "Dr. Don Morning Show With Rachael & Grunwald," has been inducted into the Country Radio Hall of Fame in Nashville.
And this weekend, more than 150,000 enthusiastic, vocal country fans will descend on Comerica Park to revel in a three-decades-plus tradition that dwarfs anything Nashville has to offer. So you tell us, Tennessee: Who's more than a little bit country?
"I've been saying it for years, and I always joke with people in Nashville," says Roberts. "They call themselves 'Music City U.S.A.' I say, 'Listen, 'Music City U.S.A.' is Detroit, Michigan. You've got Motown, you've got Bob Seger, Kid Rock, jazz, you've got it all. This is the biggest musical melting pot in America. And country is just a part of it."
The Headliner
Jake Owen picked up the guitar as a lark, teaching himself to play as therapy while recovering from the wakeboarding accident that derailed his dream of becoming a pro golfer. Apparently he healed pretty well: Owen was named the ACM's Top New Male Vocalist in 2009, the American Country Awards' 2012 Breakthrough Artist of the Year, and is riding a string of three consecutive No. 1 country singles from his latest LP, Barefoot Blue Jean Night.
He's married to a former model, Lacey Buchanan, whom he proposed to onstage in his hometown of Vero Beach, Fla. Their first child, Olive Pearl, was born last November – on Thanksgiving Day.
Geez, can this guy's life get any more ideal? Maybe we should all take up wakeboarding.
"I've been really fortunate, that's for sure," says Owen, who's jumping off a national stadium tour with Jason Aldean to be the closing act for Saturday's festivities at the Hoedown. "As far as me struggling in Nashville, I can't say that I did. It's been a long time in the making, but when I was going to school at Florida State I never really thought, dreamed or imagined of playing music for a living. My dad said, 'Boy, you'd better get a job, you're not going to just sit around in college playing sports.' I thought playing guitar sounded pretty good."
While he's no stranger to headlining – his first starring assignment, "CMT on Tour, Jake Owen: The Summer Never Ends 2012," set a record for the most consecutive sellout shows in that tour's 11-year history – this will be his first time performing at the Hoedown. "I've had a few opportunities to play, but the scheduling was never right," he says. "I'm looking forward to it. I mean, you work for that [headliner status] your whole career, to get to the point where you are the guy."
He's "the guy" in part due to the explosive success of "Barefoot Blue Jean Night," the title track and No. 1 single from his current album, a lively summertime anthem that has catapulted Owen's career to the next level.
"I knew it was a great song and related to my life, but I didn't expect this," he concedes. "That's the first song I've released that I didn't write, and I was a little bit timid about how it was going to be received. And it just completely changed my world. It opened my eyes up to a lot of things, especially not having to write all the songs that I record and drawing from the amazing songwriting well of Nashville."
The Radio Guy
Tim Roberts is an Allen Park native. And, like most veteran radio people, his career has taken a long, strange and circuitous journey – through Wisconsin, North Carolina, Iowa, Washington, California, even co-hosting a morning show with his wife, Lori, in Texas – before fate brought him back home eight years ago with WYCD.
He caught the radio bug as a student at Central Michigan University, working for the campus station while commuting to Detroit's WRIF-FM to serve as an unpaid intern for then-morning star Jim "J.J." Johnson. He showed the gift right away. "I eventually was running the campus station, and probably one of the things I'm proudest of is that I took that little radio station, with a couple of people that really knew what they were doing, to No. 1 in the market. We got a power boost to 300 watts and we beat the country station that had been No. 1 in town."
As you might imagine, that country station, WCEN in Mount Pleasant, wanted to meet this guy Roberts. And for a man generally regarded today as the best country radio programmer in America, his first job interview left a lot to be desired. "I remember they asked, 'Do you know anything about country music?' And I said, 'Not really,'" he recalls. "They said, 'Well, can you name any country artists?' I was like, 'The Eagles?' 'Uh, no.' 'Oh, how about Dolly Parton?' I had seen her on TV."
Incredibly, he got the job. And every subsequent step on his radio path – his first major-market opportunity in San Francisco, and the 29-station group he managed in Ohio and Michigan before coming to WYCD – has enriched his knowledge base. Now at 52, and with more than 30 years in the business, Roberts has touched the career of virtually every contemporary country artist working today. Taylor Swift considers him principally responsible for helping launch her superstar success (read that story in the "Reckless Eyeballing" blog on metrotimes.com), and she's far from the only performer who feels that way.
"Tim Roberts is not only a colleague, he's a friend," says 2010 Country Music Association Entertainer of the Year Brad Paisley. "We met in the late '90s before I had a song on the radio and anyone knew or cared who I was. I played him three songs that later became hits, and ever since he has supported my music on WYCD. Tim cares about this format, its artists, and is one of those people who builds careers. I'm living proof of that." Hometown hero Gracin adds, "Not only does he exemplify what a program director should be, he does it without arrogance or entitlement. You don't have to look too hard to see what kind of man he is. Look at the success of his family, his success as a father. I'm proud to know and call him a friend."
It's those relationships, those friendships that keep the entertainment quotient of the Hoedown at a high level. "Tim is the person who gets these bands to come in and play for the Downtown Hoedown," says WYCD morning co-host Steve Grunwald. "It's almost an art to get national acts to play all weekend. And we're not talking about two or three bands. It's more like 12 to 15 national acts. It's because of Tim's great relationships over the years that he can do this. Nowhere else in the country does this happen, or could it happen."
WYCD has been the presenting station for the Hoedown since Detroit's late lamented W4 (WWWW-FM) abandoned the country format in 1999. Live Nation produces the onstage performances and Olympia Entertainment is the station's site partner for the second year because of the Comerica Park location and because "it's such a labor-intensive exercise," says Roberts. "It's very crazy. First of all, you're dealing with bands. Then you multiply that times three days. Forty different band managers, 40 different record guys. You're trying to balance everything so all the bands feel the love. Then there's the logistics of the stadium, and all the permits, and insurance, and the whole digital side of our website, and making sure the on-air product of the station is working in conjunction with all of it.
"But I think we have really creative people at this radio station. Really, the best staff I've ever worked with in all those stations I've been a part of, and I've had some good ones. That makes it easier. But I think we all learn together, and we work to make the event better every year. I think everybody sees the value that it brings to the city. It's been nice to bring revenue and people into Detroit, and I'm very proud of that. You know, there have been umpteen offers to move this event out of the city, every year. But Debbie [CBS Radio vice president and market manager Debbie Kenyon] and I committed a long time ago that we wanted to keep this in Detroit. We think it's good on many levels, and it seems to work."
The TV Anchors
Should any further proof be required that Detroit could double as Nashville North, consider this: two of the four lead news anchors for the city's network television affiliates, Devin Scillian of NBC/Channel 4 (WDIV) and Stephen Clark of ABC/Channel 7 (WXYZ) are prominent local country singer-songwriters in their off-camera hours. And while neither singing head is performing at the Hoedown this year – the Chevrolet Detroit Grand Prix held the same weekend may need some coverage – each has played the event at least a half-dozen times in the past.
"I think it's great, because you don't necessarily think of Detroit when you think of country music," acknowledges Clark, whose Twitter ID (@stephenclark) states tongue-in-cheek, "I'll keep at the music until this TV thing works out."
(He assembled his backup band through communications on Twitter and named it, appropriately, the Trending Topics.)
"So I think the opportunity to bring live country performances from the top names on the charts right now is a big thing," Clarks adds. "I think it exposes people."
Scillian says there are some inherent hassles for local acts playing the Hoedown. "To be honest, my band doesn't always love it," he says. "Parking is crazy, and trying to get your gear loaded in and out can be a challenge, but my experience has always been a good time. What's really cool is that, as opposed to some other places you play where people show up to be nice, you know you're getting a serious country crowd at Hoedown."
The dueling anchors once played dueling guitars for fun at the Mackinac Island Policy Conference, and while they've never collaborated, Scillian says the two keep each other aware of their musical progress via YouTube. "I think when you get down to it, it might mean that anchormen are big hams," he says, laughing. "But Steve and I have talked about it, and what journalists do, at least the good ones, is tell stories. And that's what songwriters do. Underneath it all, what we really like to do is write songs."
Huel Perkins better get a band together.
Jim McFarlin is a regular contributor to the Metro Times. Send comments to [email protected].