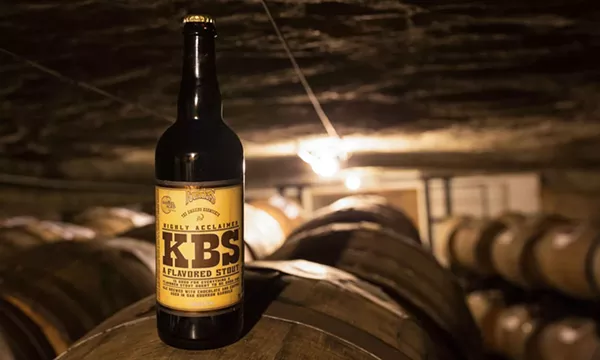 KBS Week
— the beer lovers' equivalent to Christmas — is upon us. The annual celebration and release of Founders Brewing Co.'s imperial coffee chocolate stout aged in bourbon barrels is happening March 5-10. This year will be the first time Detroit area tappings will be included in the festivities.
The tickets to get your own bottles from the Detroit taproom are already sold out, but there are plenty of chances to taste this year's batch around the area.
Here's a rundown of when and where you can find it:
Monday, March 5
HopCat Ann Arbor — 5:30 p.m. tapping
Dan's Downtown Tavern (Saline) — 7 p.m. tapping
Tuesday, March 6
Clubhouse BFD (Rochester Hills) — 5:30 p.m. tapping
Rochester Tap Room — 7 p.m. tapping
Wednesday, March 7
Slows Bar BQ (Corktown) — 5:30 p.m. tapping
Firebird Tavern (Greektown) — 7 p.m. tapping
Thursday, March 8
World of Beer (Canton) — 5:30 p.m. tapping
Hermann's Olde Town Grille (Plymouth) — 7 p.m. tapping
Friday, March 9

HopCat Royal Oak — 5:30 p.m. tapping
Lockhart's BBQ (Royal Oak) — 7 p.m. tapping
Saturday, March 10
Official taproom release
at Founder's Brewing Co. in Detroit. This is a first-come, first-serve, 21 and older event with no cover charge. KBS will be flowing all day.