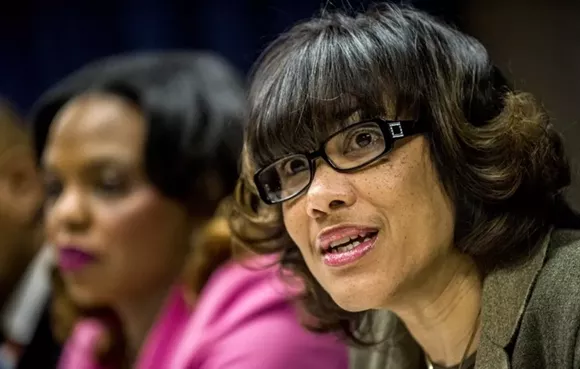 When municipal officials release statements like, "We appreciate and thank the citizens of [insert name of city] for their cooperation," it almost always means that these citizens had no say in whatever decisions were made. One might as well say, "We thank [city] for remaining chained down as we repeatedly kick [city] in the gut."
Unfortunately, this continues to be the case for the city of Flint.
The drama of
Flint's trash contract dispute continues
. State representative Aaron Miller (R-Sherman Township) has written a letter to Attorney General Bill Schuette asking him to investigate Flint's city council after they voted against hiring Rizzo Environmental Services to haul the city's trash.
The problems began in July when Councilman Scott Kincaid filed suit against the office of Flint Mayor Karen Weaver after she failed to recognize the council's decision to renew a contract with Flint's current collector, Republic Services. The rest of the city council later joined Kincaid and hired legal representation.
Flint's city charter dictates that the council must accept the "lowest responsible" bid. Although Rizzo offered their services for $2 million less than Republic Services, council members were concerned about Rizzo's integrity. When asked whether they did business in Canada with former Flint Mayor Woodrow Stanley as a consultant, Rizzo reportedly gave unsatisfactory answers.
"Rizzo has an obligation to disclose their relationship," said council member Kate Fields. "Not only did they not disclose [Stanley's] relationship, they did not use integrity when answering the question. Lowest responsible bidder has many elements to it."
Miller, however, had a different perspective.
"The city council is collectively thumbing its nose at saving money and is disregarding the law," Miller said. Schuette's press secretary Andrea Biteley said the Attorney General is reviewing Miller's letter.
Republic Service's contract expired on July 29 and no new agreement has since been reached. Officials initially reached a temporary agreement to have trash picked up through August 12. However,
a statement
by Flint spokeswoman Kristin Moore swiftly dashed those hopes.
"Due to the circumstances," the statement read, "there will be no trash pick-up in the city starting this Monday, Aug. 1, 2016. Until a new agreement is officially in place, we ask the residents not set [sic] their trash out at the curb to prevent animals from disturbing it and make the situation worse."
Understandably,
residents on Flint's north side are fuming
.
"It's like we are living in a third world country," Flint resident Travis Gilbert, 46, told
MLive
.
M.C. Collins, another Flint resident, said, "They need to pick it up. There are dogs knocking over trash, kids knocking over trash. If they don't hurry up, they are going to make it worse."
The dispute will be presented before the Receivership Transition Authority Board on Wednesday. RTAB board chair Frederick Headen addressed a letter to City Attorney Stacy Erwin Oakes saying
the board would wait for city officials
to resolve the dispute.
As a result, the issue will likely go to court on August 11 where Genesee County Circuit Judge Joseph Farah may make the final decision on Flint's trash collection.