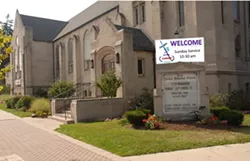 The First United Methodist Church of Ferndale is partnering with the Community of Christ the Good Shepherd for a free community dance on Friday, June 17 at 7 p.m. and it's specifically welcoming the LGBTQ to join.
The dance, which they're calling the "Lemon Ball," is in celebration of recent renovations after a flood from rainstorms and sewer backups at the church on August 12, 2014. The storm caused sewer backups, damages to choir rooms, social halls, the kitchen, and classrooms. Walls and carpet were also destroyed. The damages to the lower levels of the church were repaired after 15 months and a lot of money was put towards the project. The last of the major renovation were finished last winter.
Church members said that they "were given a lot of lemons but made lemonade," a popular phrase used to show positivity in the face of adversity. They used the phrase as inspiration when coming up with a name for the event.
Michael Cadotte, lay leader chair of witness and outreach, says that a dance is a great way to celebrate their victory. He said that the church wanted something fun for the community and of a celebratory nature.
On June 17 at 7 p.m., the church will hold the "Lemon Ball," a dance party for the entire community, which will specifically recognize gay pride. All ages and backgrounds are welcome. If you are wondering about how to dress, you can dress anywhere from formal to casual or in your lemonade best, you decide. Cadotte says that the church strives to embrace people of all different races, cultures, and backgrounds and wants to give recognition to the LGBTIQ community.
"We are a very diverse church," Cadotte says. "Many churches have one only one race or background but we have a little bit of everything. We have gays, lesbians, transgenders, rich, poor, black, and white. "Our mission is to minister with and to all persons, providing worship, nurture, fellowship, and service. Our welcome knows no boundaries of age, race, ethnicity, culture, gender identity, sexual orientation, configuration, economic condition, physical, or mental ability."
The church is one of few Methodist churches working with the Reconciling Ministry Network which helps congregations adopt policies to help churches go through the process of welcoming all people regardless of sexual orientation, race, or culture. The network is made up of over 700 reconciling communities and over 34,000 individuals such as congregations, Sunday school classes and small groups and campus ministries.
On Sunday, June 19, the church will hold worship services to celebrate and give thanks in the sanctuary of Ferndale First United Methodist Church at 10:30 am or Catholic Community of Christ the Good Shepherd mass 10 am in the chapel. The same day the church will hold the "Lemons to Lemonade dedication lunch" which is a free luncheon at noon with an open house and dedication program to explore the church and areas reclaimed.
Cadotte encourages people to bring a case of water with them to keep the environment alcohol free.