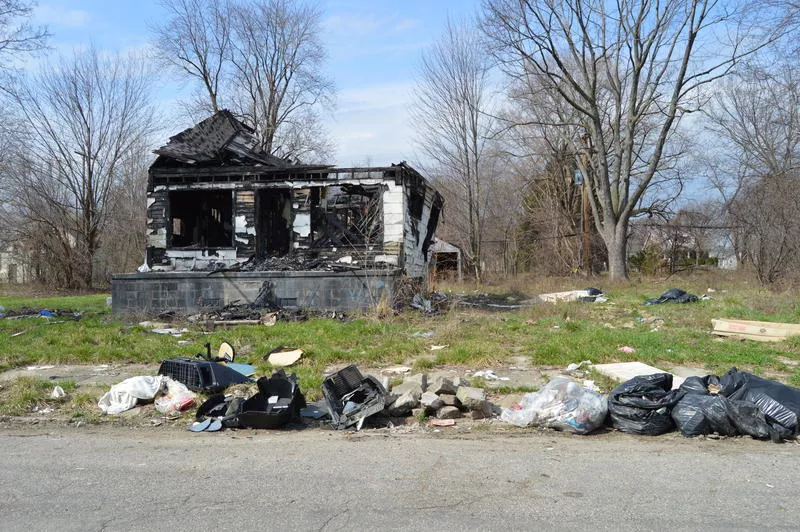 It's a cliché: "A tale of two Detroits." The stark disparities between Detroit's increasingly gleaming downtown and crumbling neighborhoods is well-known, well-documented, and clear to anyone with eyeballs who has ever set foot in the city before. There are plenty of other well-documented names for the phenomenon — like "Gilbertville," or
"The 7.2,"
as in the number of square miles of downtown and Midtown that have seen investments in recent years. (Of course, there are pockets of the city beyond this area that are also doing well.)
To the point: "Two Detroits" is a thing. And
it was undoubtedly the theme of Detroit's mayoral primary campaign season
, seized in particular by Coleman Young II, the top contender against incumbent Mayor Mike Duggan in November.
"[40 percent] of the city is living in poverty," Young
told us
. "Whatever [city officials] are trying to turn is clearly not working for almost half the city." When asked about Detroit's "turnaround," the dozen other candidates who were vying for Duggan's job had similar things to say.
So that's why it's a bit baffling that Duggan, when
asked by The Free Press
to comment on the "two Detroits" narrative following Tuesday's win, reportedly dismissed it as "a fiction":
And while Duggan has rebuffed the narrative of two Detroits — one involving the affluent parts of the city and the other impacting the city's poor — Young has used it heavily in his campaign.

But Duggan believes the city is inclusive of all of its residents.

"Just come down here Saturday at 3 p.m. and take a picture of a random place, and I think you'll see we have an area that is welcoming to everybody," Duggan previously told the Free Press.

When asked again Tuesday night by the Free Press about the two Detroits narrative that's being pushed by the Young campaign, Duggan said he doesn't want to talk about it again.

"I don't know what you are looking at," Duggan said. "The margins you are seeing tonight are historic, it appears we carried every precinct. So again, I really don't want to talk about this narrative anymore, it's a fiction coming from you. It really is."

When reached for comment, Duggan's chief of staff Alexis Wiley offered a clarification:
"The Mayor was responding to what he understood was the reporter's suggestion that the City of Detroit was divided politically. The Mayor is the first to say that while the city has made progress, there are far too many Detroiters who struggle with poverty and joblessness. That was the central theme of his speech last night and the reason he launched programs Detroit at Work, Grow Detroit's Young Talent and the Detroit Promise. Today, Detroit's unemployment rate is the lowest it's been in 17 years and 20,000 more Detroiters are working today than four years ago. Last night, the Mayor made it clear there is much more work to be done. The undeniable results of last night's election show Detroiters are united in their support of the direction the city is going and the steps this administration has taken. That's the One Detroit the Mayor was talking about and that Detroiters voted for."

For his part, Duggan's campaign slogan is
"one city for all of us,"
which seems to both acknowledge the prevailing "two Detroits" narrative as well as signal a desire to quell it.
But Duggan might consider changing his narrative. There's plenty of data that shows that not only is the "two Detroits" phenomenon real, but that it has in fact grown worse during Duggan's first term.
According to a 2016 study (titled
"'It's safe to come, we've got lattes': Development disparities in Detroit"
), by a number of measures Detroit has continued to decline despite its recent "comeback" narrative. The authors, from Michigan State University and Wayne State University, were blunt in their assessment: "The gap between Detroit's core area (Downtown and Midtown) and its neighborhoods is significant and increasing."
They also wrote:
Overall, the citywide data suggest that Detroit continues to experience decline, leaving it worse off than in 2000, or even 2010. Population, employment and incomes continue to decrease, while vacancies and poverty have increased. The real progress that has occurred in recent years in the Downtown/Midtown core has been insufficient to offset the continued citywide negative trends. In part, this paradox has been caused by the scale and uneven geographic distribution of the positive indicators. The Hudson-Weber Foundation's (2015) 7.2 Square Miles report highlights the concentration of positive activities in the Downtown and Midtown areas of the city. The very modest but real positive changes that are occurring here are in stark contrast to what is happening in the other 95% of Detroit.

The authors of the report also note that downtown and Midtown have experienced increasing poverty and income inequality, a loss of business establishments and employees, and that jobs are increasingly held by non-Detroiters.
"The modest rising tide is not sufficient to float all, or even many other, boats," they wrote.
Duggan was elected in 2013. He won 69 percent of the primary votes on Tuesday's primary, while Young won 27 percent. He and Young will face off in November.